2020 Weddings My Covid-19 Year;
2 Lockdowns, 15 weddings, 2 Proposal Shoots and one pre Wedding shoot, My 2020 Wedding Year
 I was expecting it to be a year of anxiety and frustration when lockdown started but instead I was pleasantly surprised by how quickly people adapted to the new restrictions and how much fun smaller Weddings and Elopements could be.
My year started on the 18th January in Bude at The Falcon Hotel, a lovely venue opposite Bude canal and a short walk to the beach. Rowena and Martyn had moved to Bude to start a new life together and late in 2019 I met them to talk about their January wedding.
It was a cold crisp day with plenty of sunshine so after the ceremony at The Falcon we headed down to the Breakwater at Crooklets beach for some pictures, making the most of the limited daylight at this time of the year.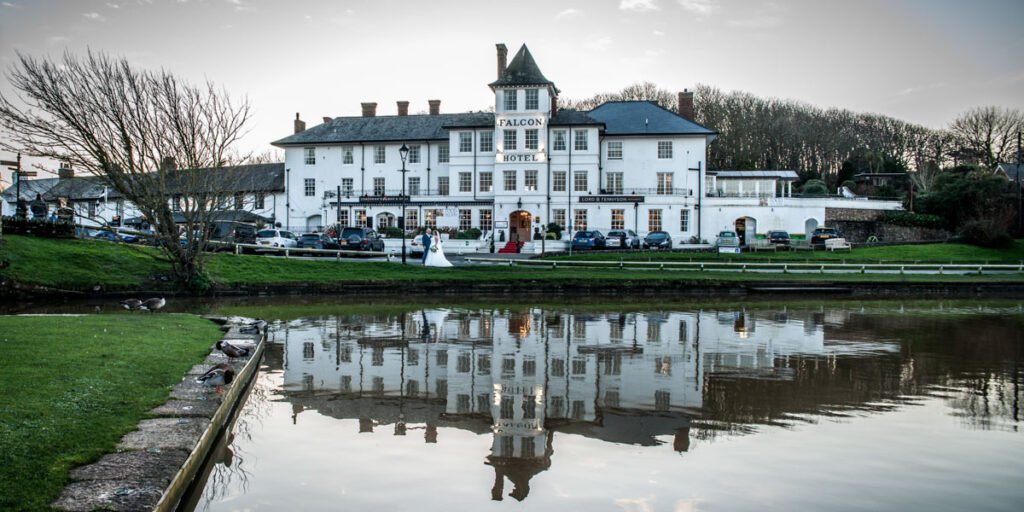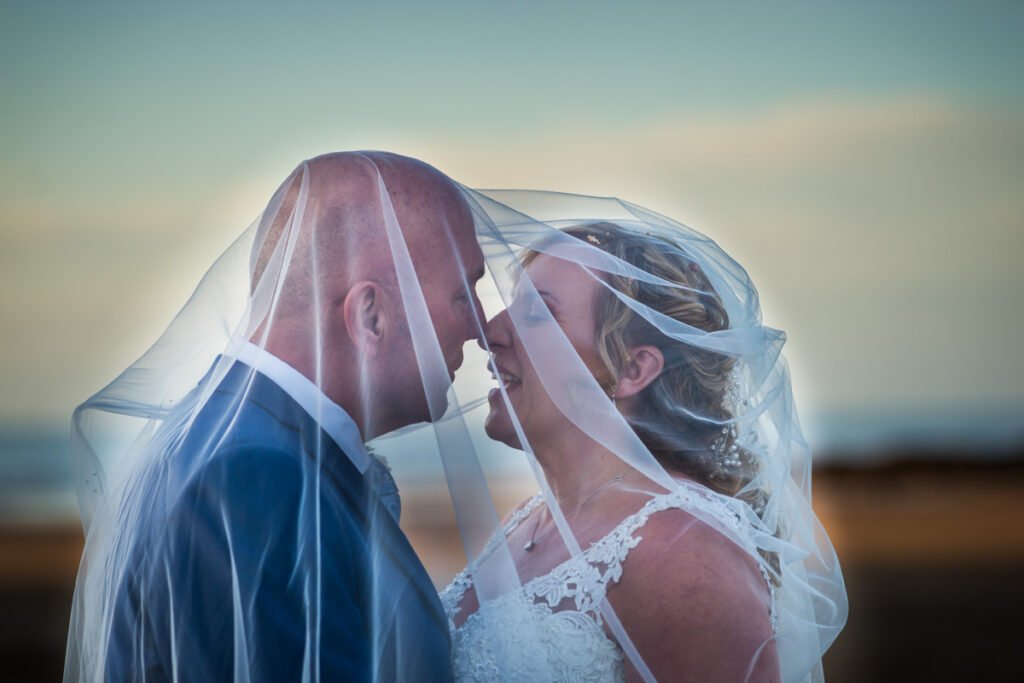 Next up on February 1st was Mel and Steve's Elopement wedding at the beautiful Pentillie Castle. 
Pentillie Castle has a number of venues where you can get married. They chose to get married at The Bathing Hut situated on the banks of the river Tamar. I have previously only photographed weddings at Pentillie in the summer when the lovely gardens are in full bloom, but by early February, daffodils and some other bulbs were making an appearance and the Lime walk always looks great for photographs whatever time of year.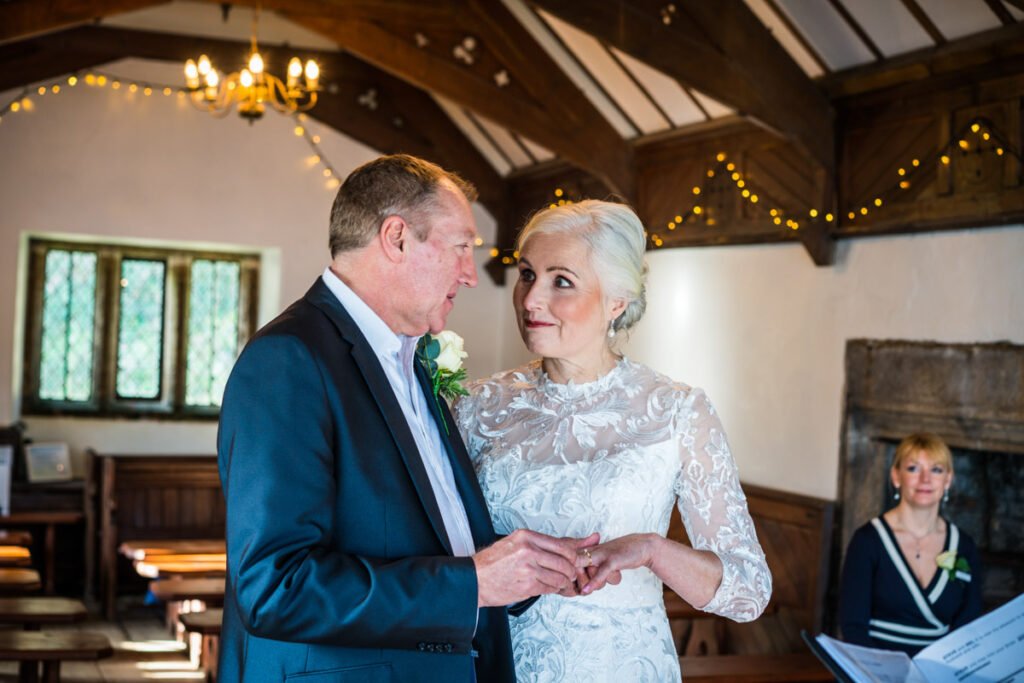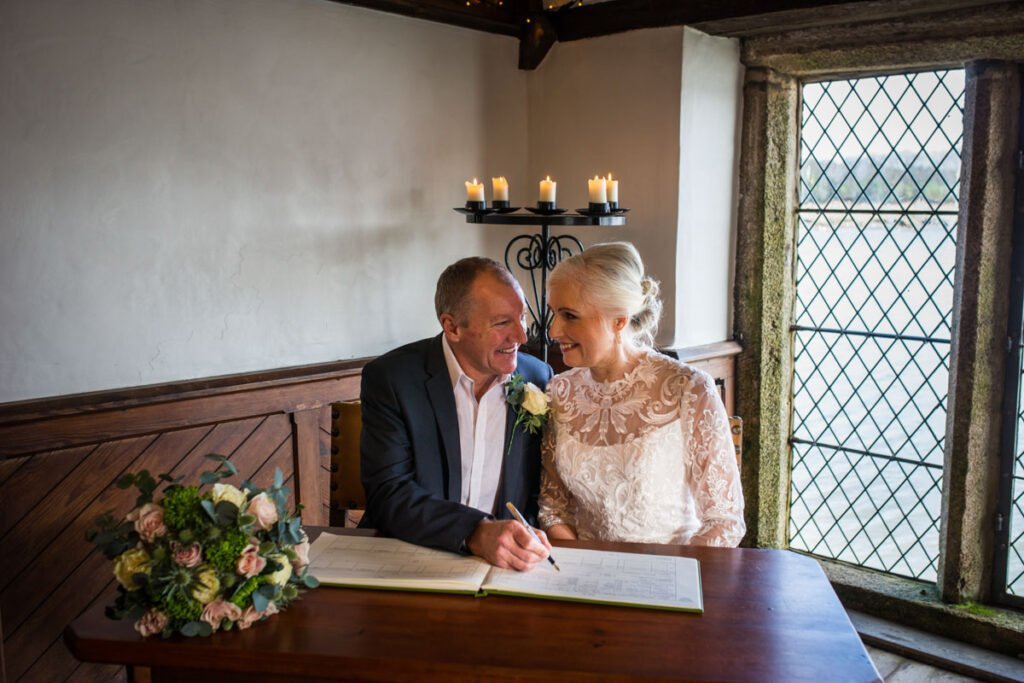 On Valentine's day we did a local wedding for a lovely couple who we had known for a few years, Ri and Aaron got married at Advent church near Camelford, a beautiful church on the edge of Bodmin Moor.
It was at this point that it was obvious that Coronavirus was going to become a major problem, the news from Italy was awful and it wasn't long after that I received my first cancellation of the year, even though lockdown was still a few weeks away. Andrew and Debbie were due to get married at The Mill House Inn Trebarwith on the 28th March but when family and friends thought that it was not safe to travel they decided to postpone to the 28th October 2020 and then again to April 24th this year, fingers crossed they can go ahead.
When we entered lockdown, all my April, May, June and July weddings postponed to either 2021 or later in 2020, fortunately I managed to accommodate all but 2 of my weddings with their new dates. Although many businesses were making a charge to change the date I didn't feel it was something I wanted to do as it was already a stressful time for couples.
Lockdown gave me the chance to look at my wedding business it had been pretty much full on for the last 9 years with an average of around 45 – 50 weddings a year, so I had little chance to take stock. I redesign my website and brought it up to date with some more recent weddings. I got really interested in web design and decided to start a web design business.
Cornwall was eerily quiet during this time and it was so strange to go down to our local beach in June and virtually have the place to ourselves.
As lockdown was coming to a close I had been in touch with Andra and Christian who were very keen to get married as soon as possible as Andra had to return to Austria by late July.
On the 4th July Andra and Christian got the go ahead from the vicar at Newquay Parish church for their wedding. I was not quite sure what to expect, how weddings were going to be performed with restrictions in place. Cornwall would be open for the first time since lockdown and I was expecting the whole place to be bursting at the seams.
The weather was not brilliant with a thick sea mist. Doing a wedding after such a long break and with restrictions in place was going to be challenging. Luckily Newquay Parish church is very large with a capacity of over 200 so social distancing with 30 guests was not going to be a problem, hand sanitisers were in place and although we were required to wear masks the guests did not have to at this point. One silly rule that was brought in at this point but later removed was that the bride had to walk down the aisle alone.
 Christian is a keen surfer so despite the weather we took a trip down to South Fistral beach for some pictures and with the mist starting to clear we got some great shots.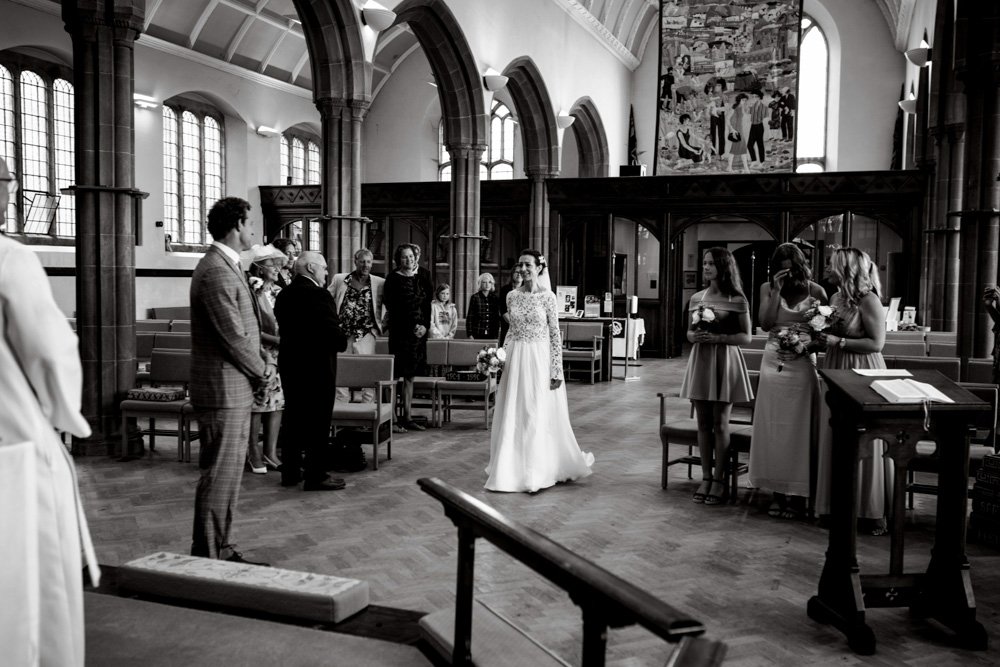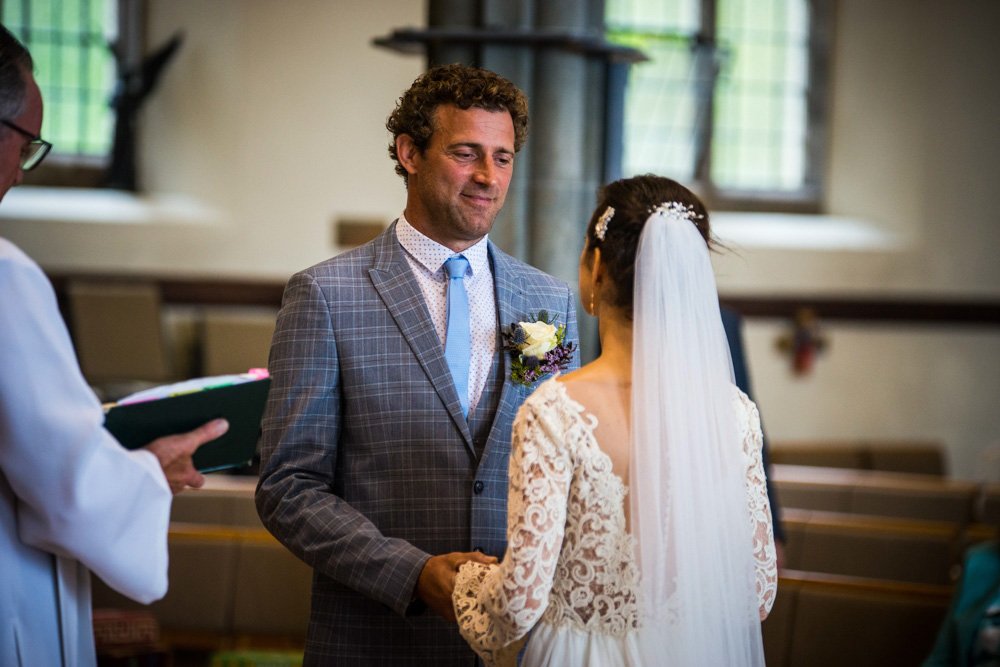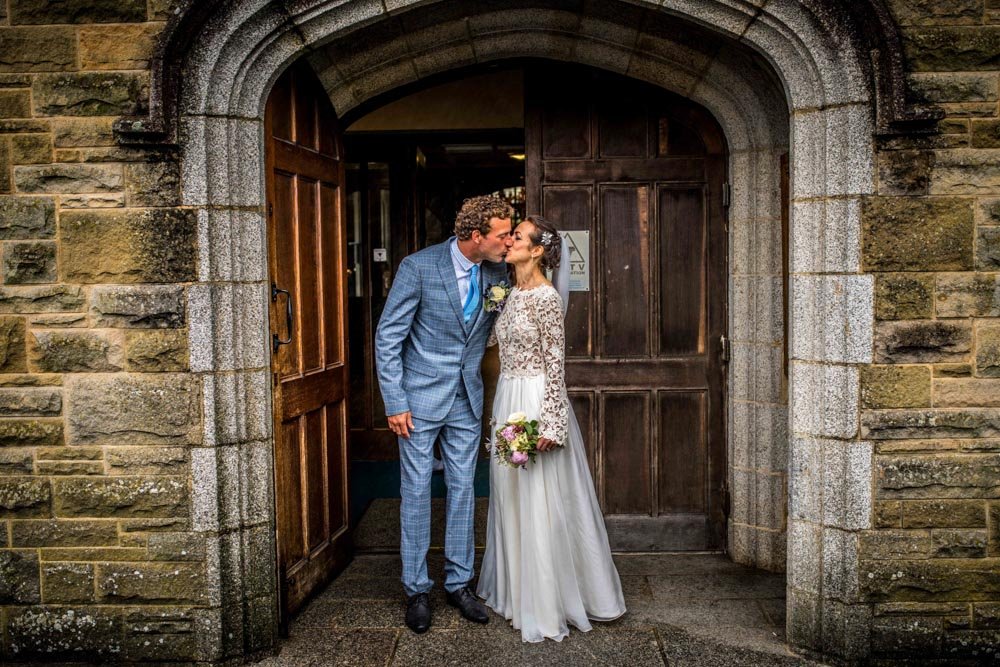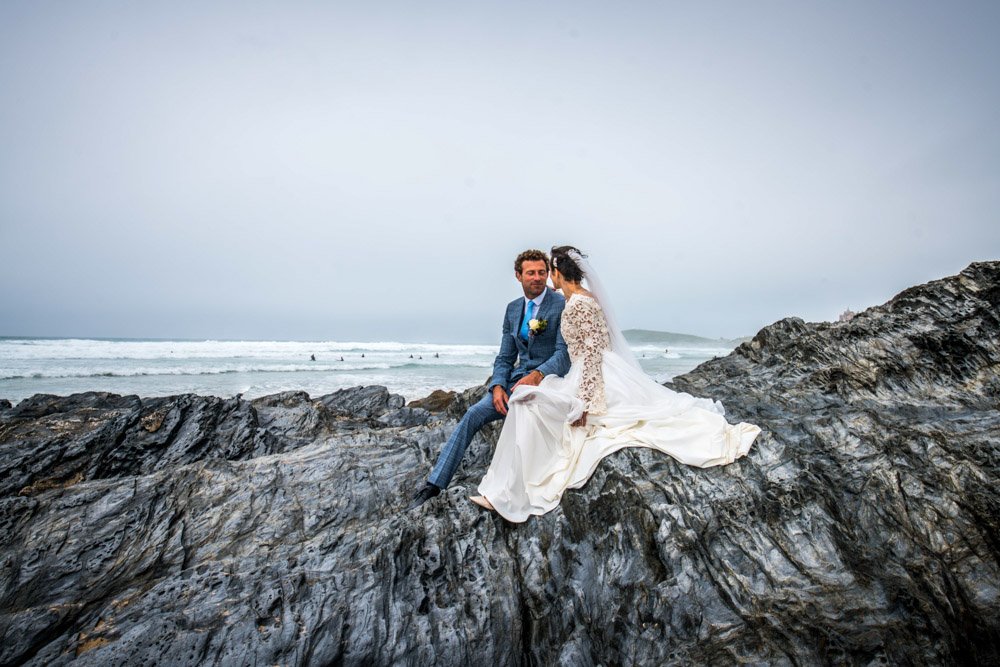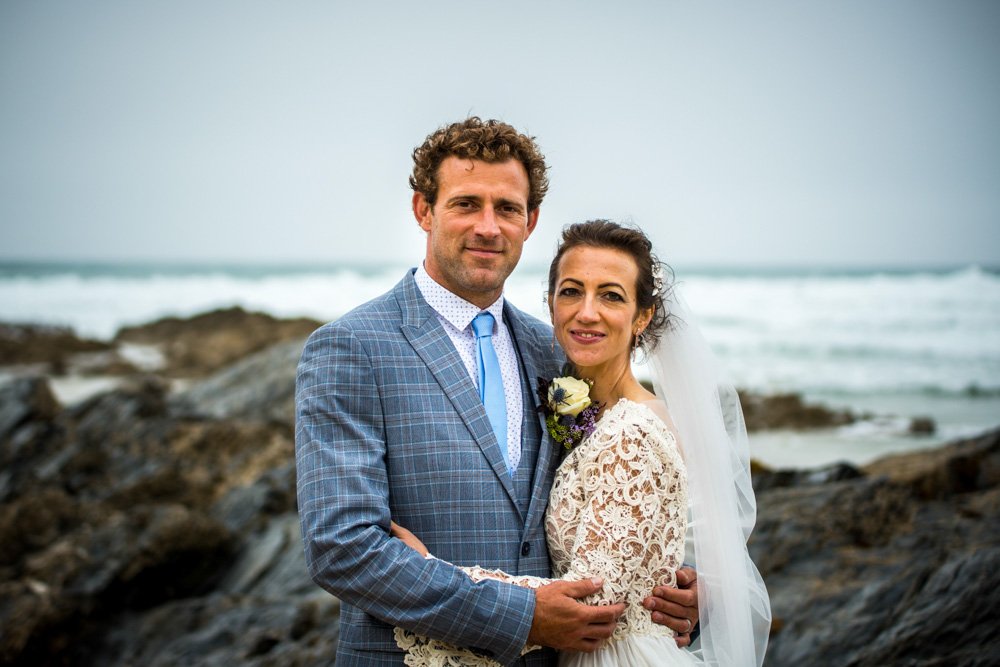 Next up was Sophie and Jared, they originally planned to get married in Barbados and they had booked me to cover the family party they had arranged in Falmouth on their return, with that not possible now they instead decided to go for a small church ceremony and a reception back at the family home in Perran-an-worthall, at the time these were allowed.
The church at Perran-an-worthal was much smaller than Newquay Parish Church but with only 15 guests it was still fairly easy to socially distance but the vicar would not allowed any photography apart from at the back of the church, so we also filmed the ceremony for them.
Sophie's parents house had a large beautifully landscape garden in Perranwell and with some great weather we were able to get some lovely shots of the two of them and the bridal party.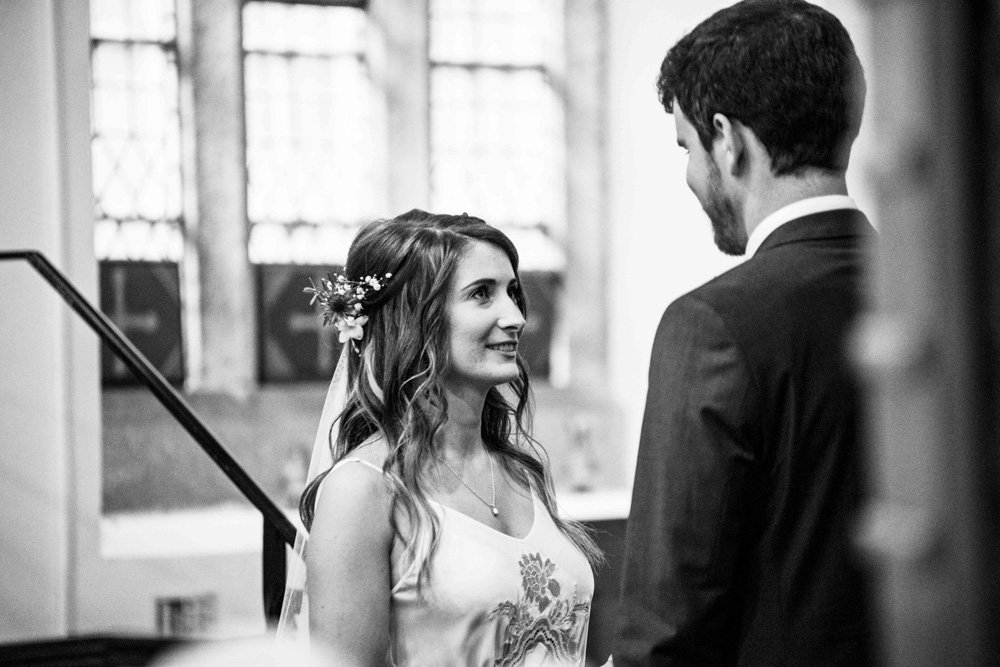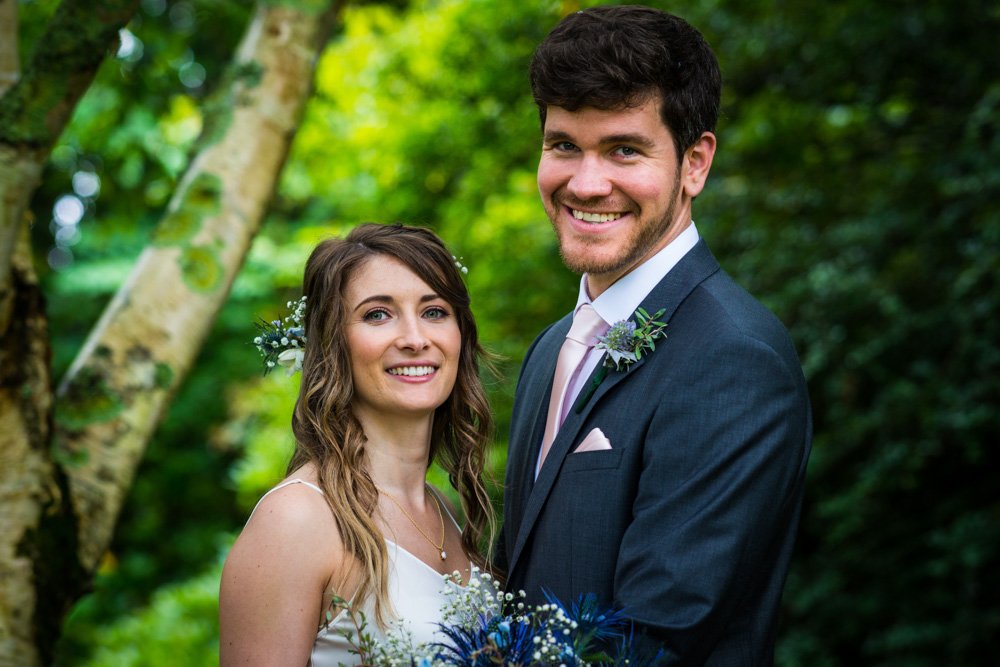 Moving into August and the summer in Cornwall was in full swing, everywhere was jam packed, with Perranporth beach having an estimated 10,000 people on one day alone.
At the beginning of August, we did a pre wedding shoot at Mt Edgcumbe Park, which is near Torpoint and has wonderful views of Plymouth Sound. Mallory and David live close by and David used to work at the Park, it was one of their favourite places. They had booked a wedding package with a pre wedding photoshoot and they were planning to get married at Mt Edgcumbe House in September. The park is full of great photography locations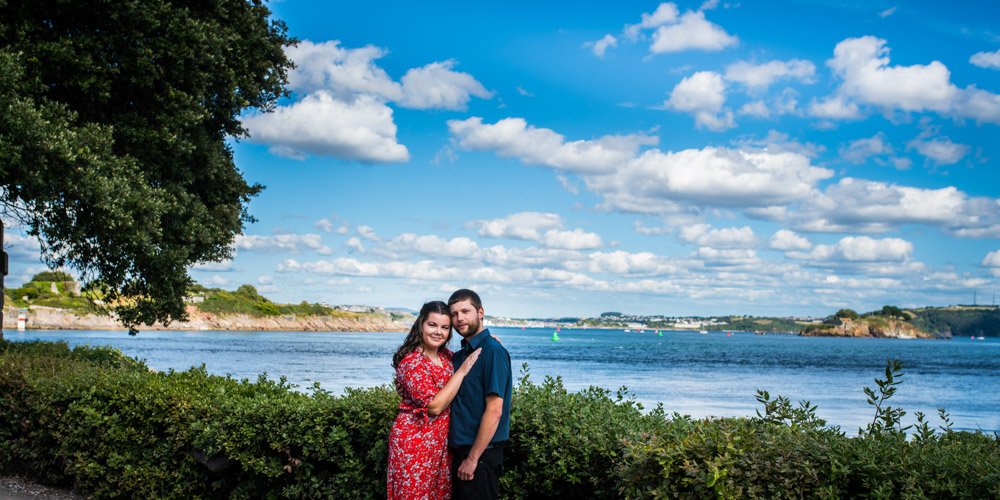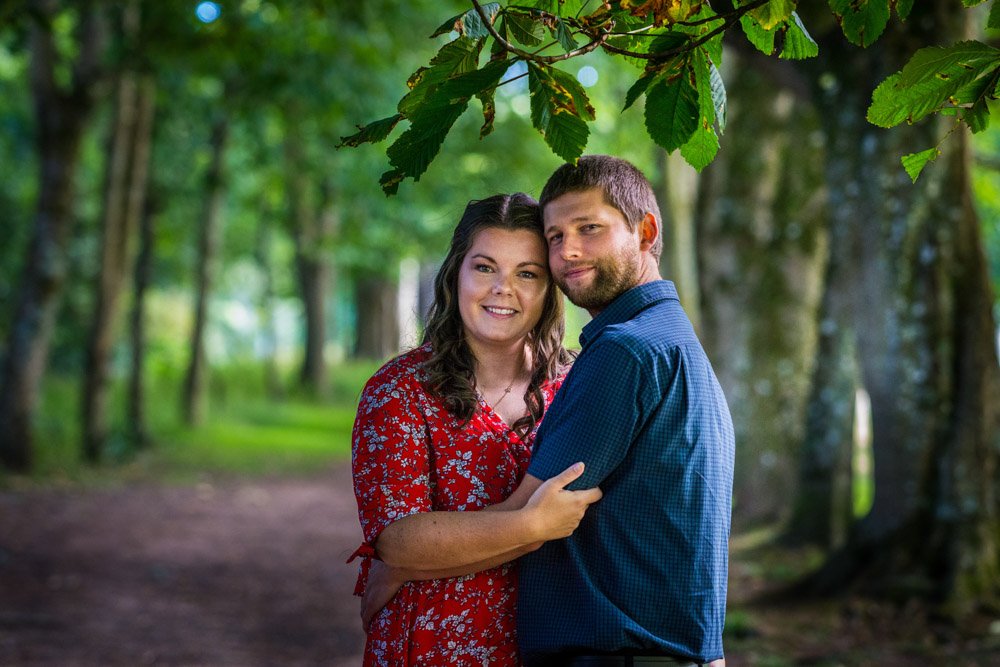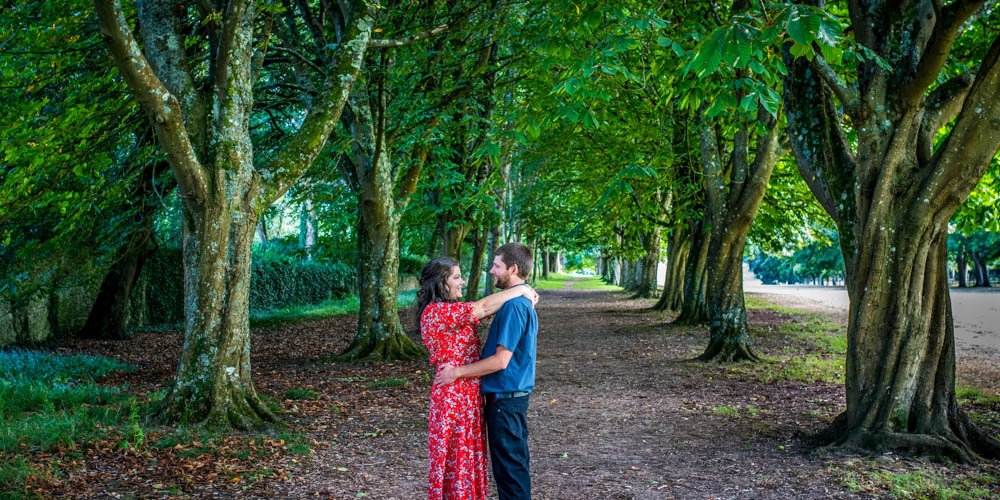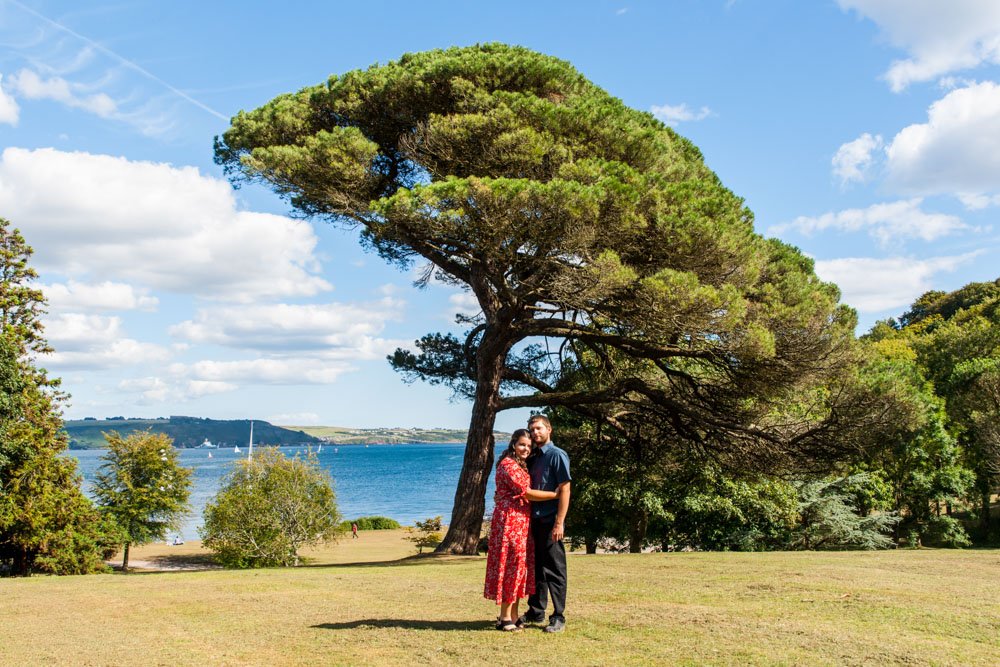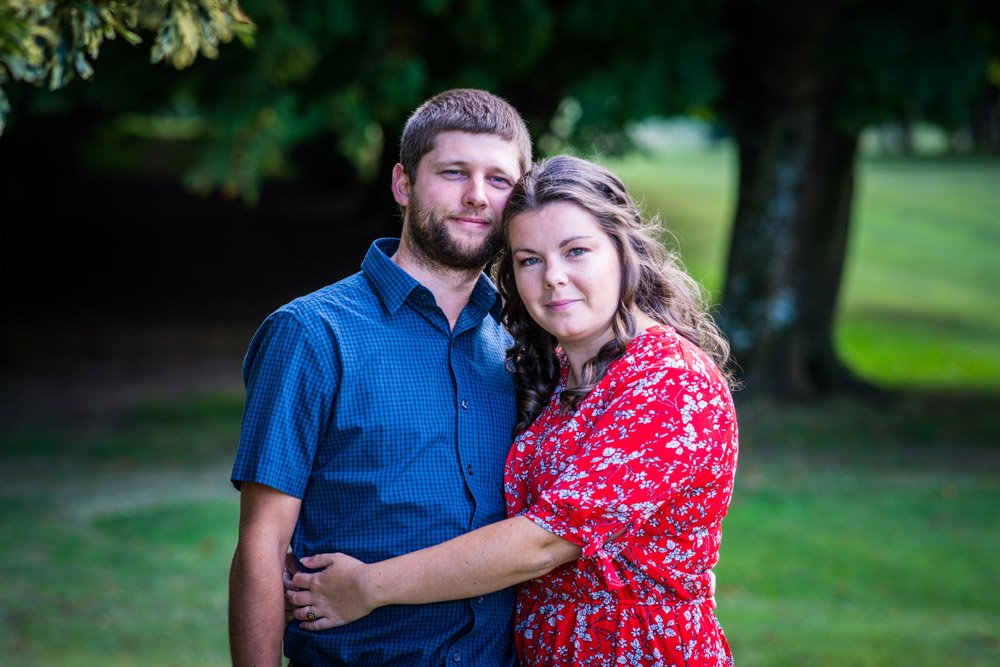 My first wedding in August was at The Headland Hotel in Newquay. The place was as busy as I had ever seen it and what would normally be a 40 min trip from my house near Tintagel took just under 2h.
Sam and Daniel were married on the 10th August and new restrictions meant that the guests would now have to wear masks but not the Bride and Groom. Situated at the north end of Fistral beach, with beautiful weather the beach was full, so instead of taking the bride and groom down to the beach which is what I would normally do, we went along the coast path towards Little Fistral which wasn't so busy.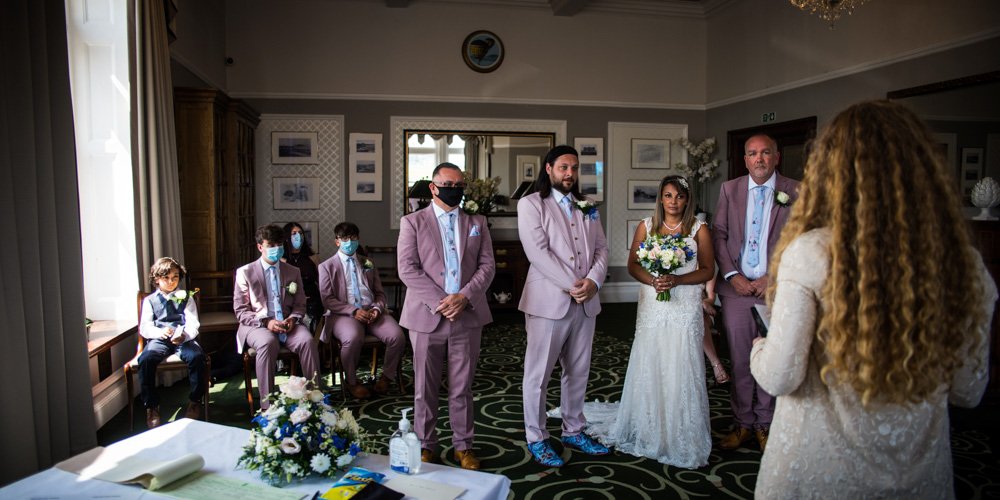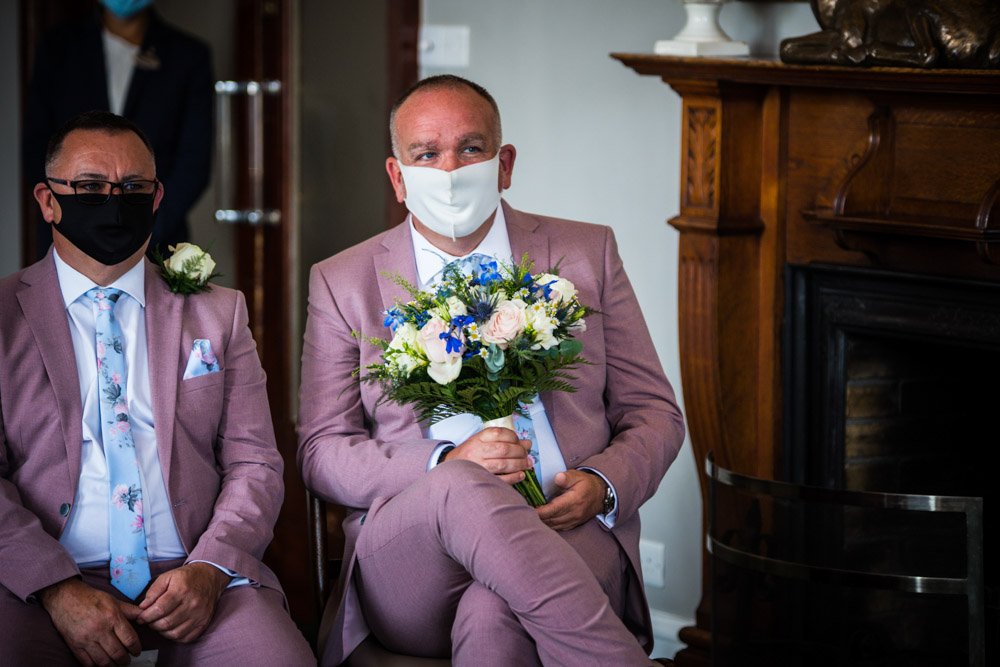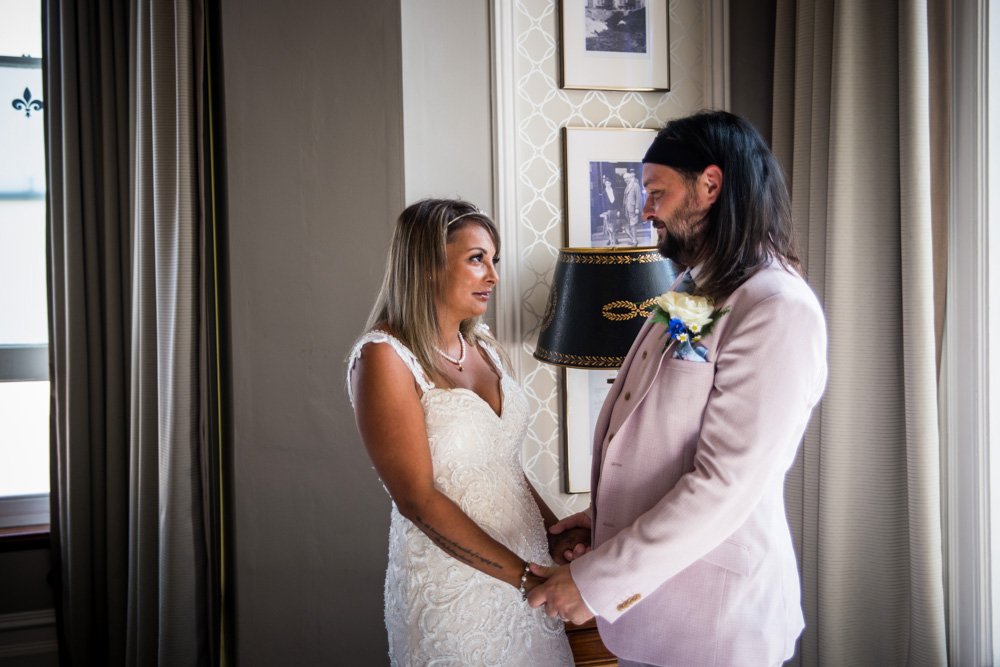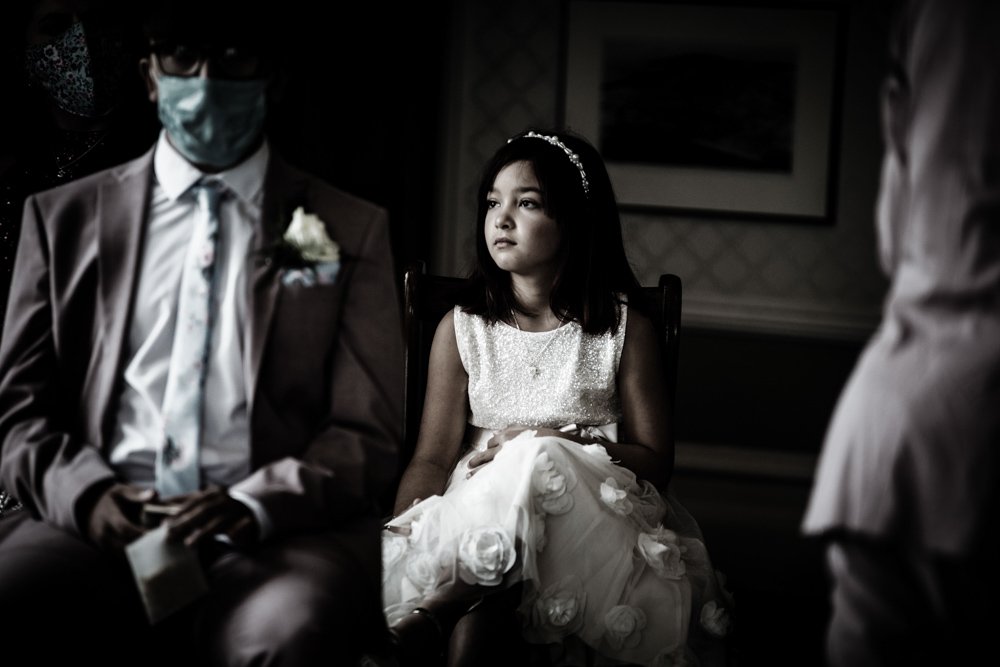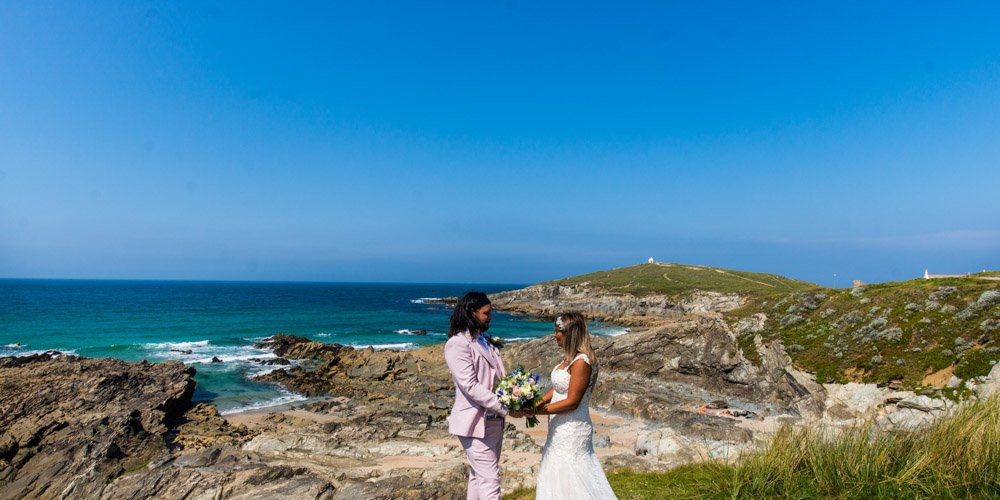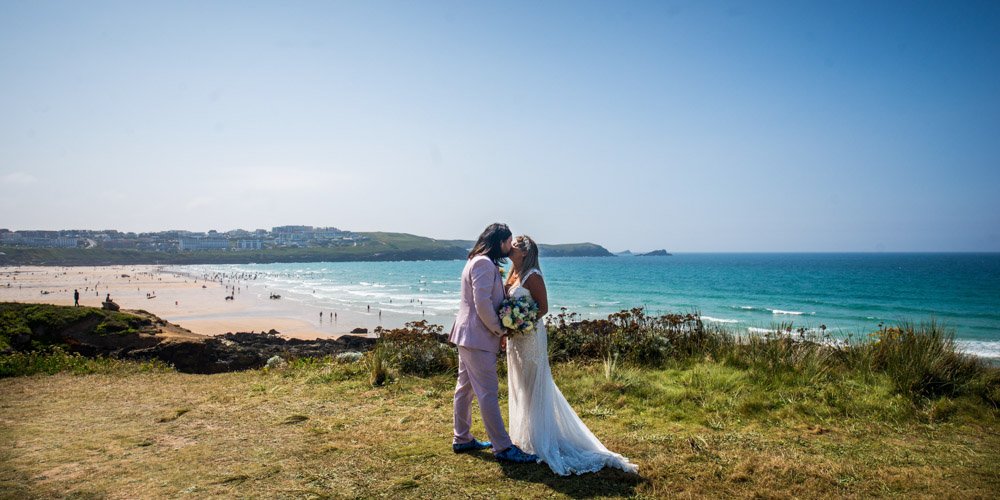 I don't do that many weddings in Devon but one of my favourite venues is The Sandy Cove Hotel near Ilfracombe which has a spectacular view of the North Devon coastline from the wedding gazebo, just in front of The Venue a custom designed building for weddings. On the bank holiday weekend Helen and Mark had a small family wedding at the outside gazebo, unusual for a Bank Holiday weekend the weather was fabulous. Despite only having 15 guests Helen did manage an impressive bouquet toss.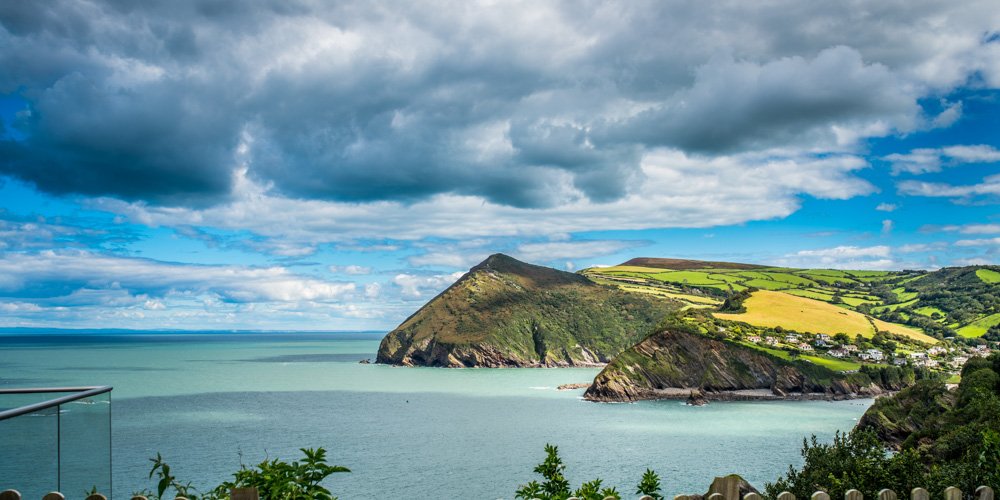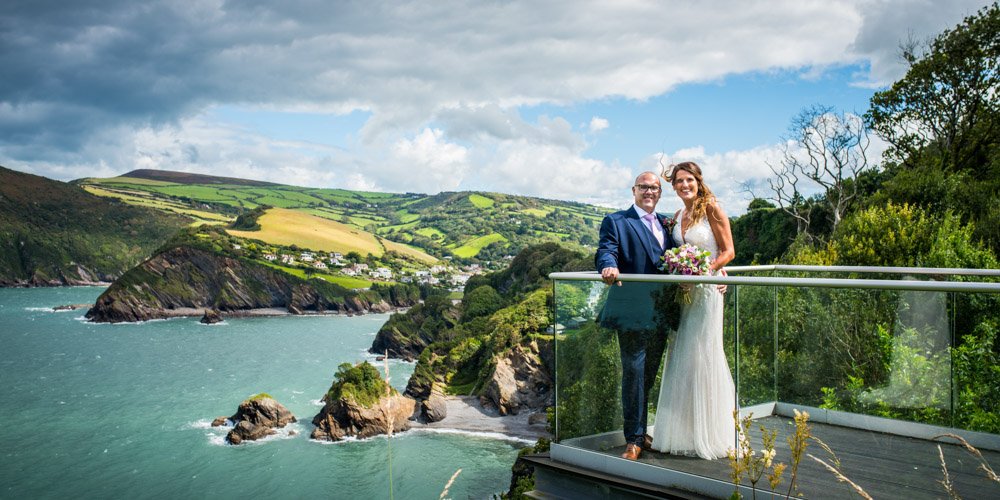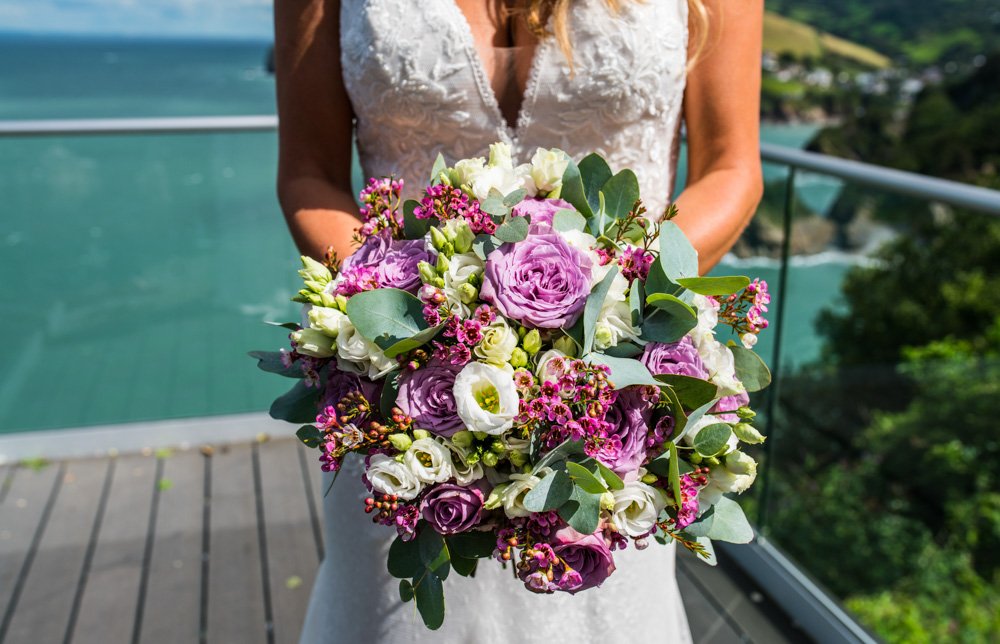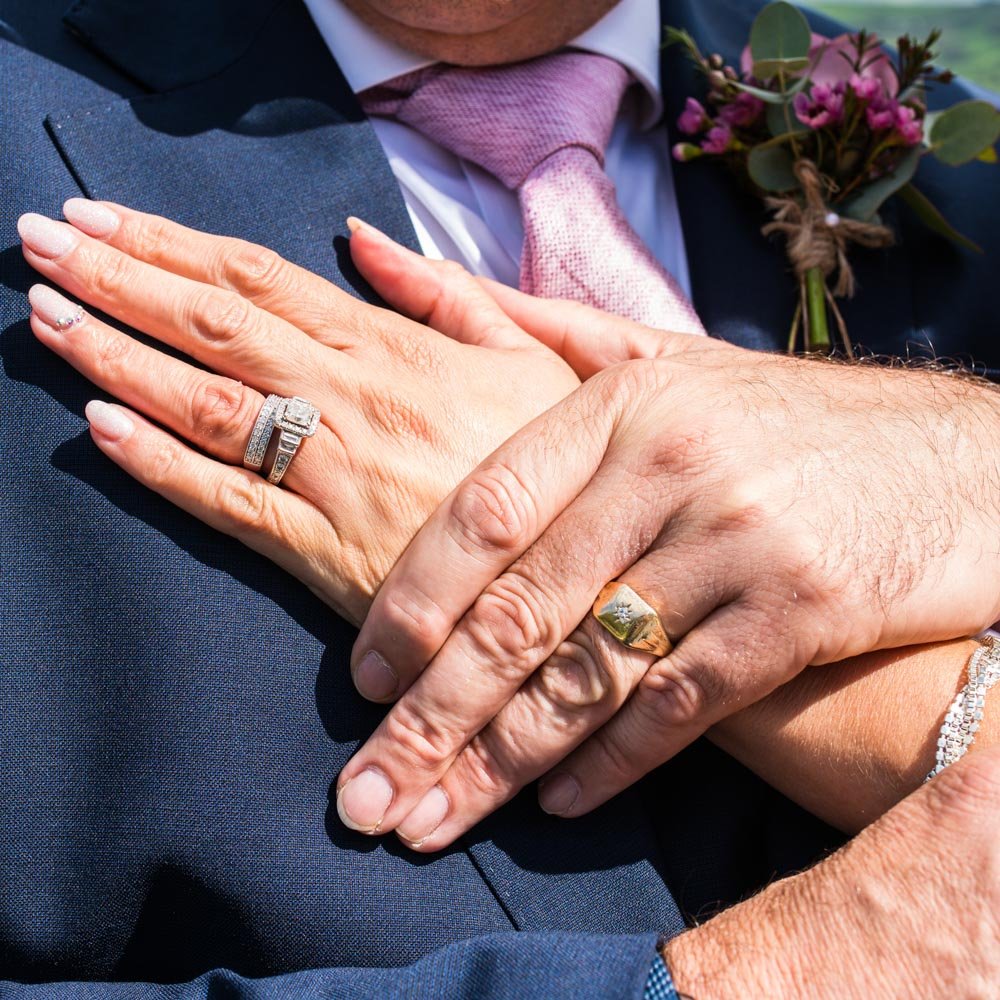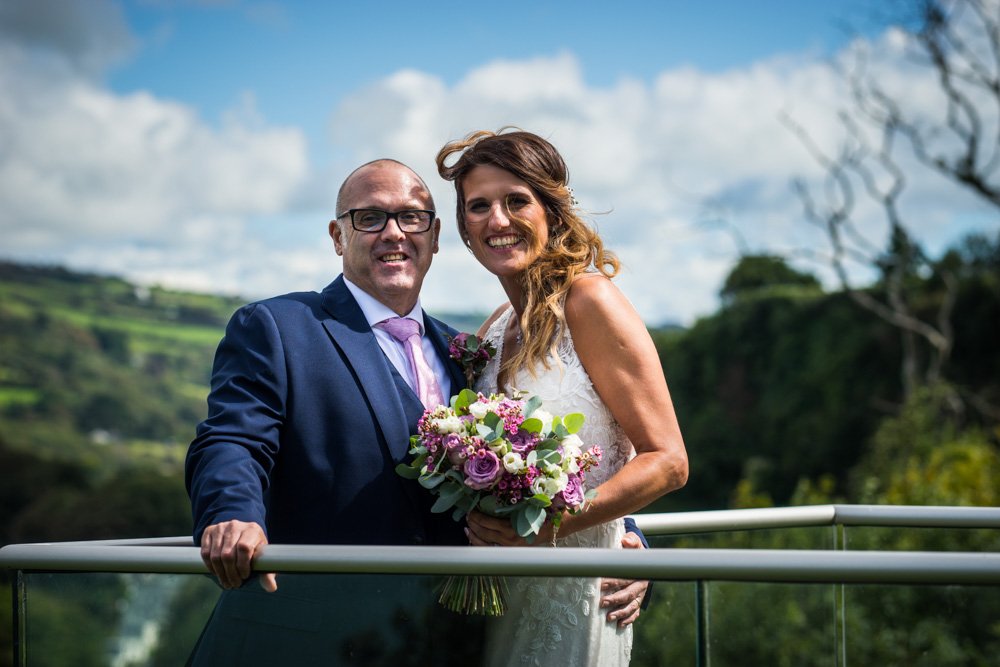 Moving into September we were back at The Headland Hotel for the wedding of Caz and Rob, again the weather was great and despite Schools going back Newquay was still incredibly busy.
We had a full day coverage starting with some bridal prep shots and then staying to captured a beautiful  sunset.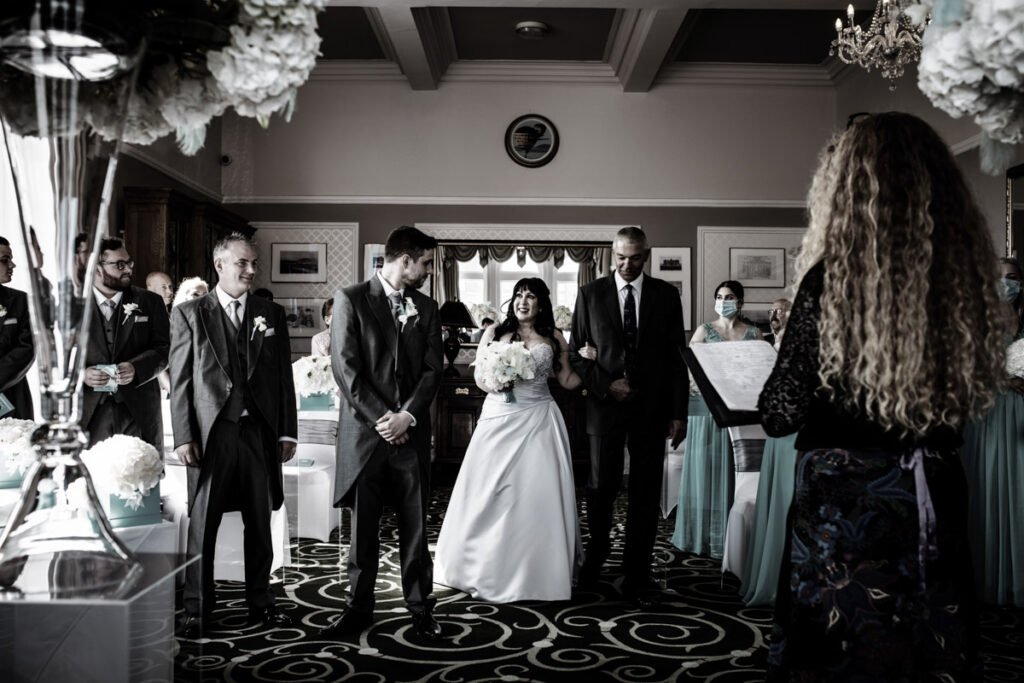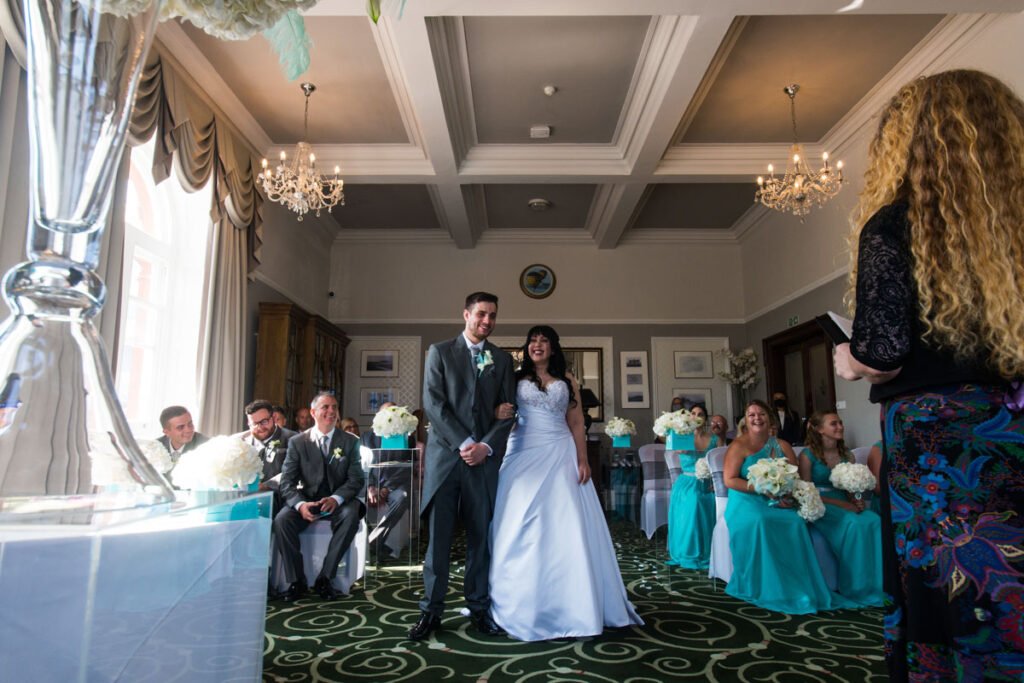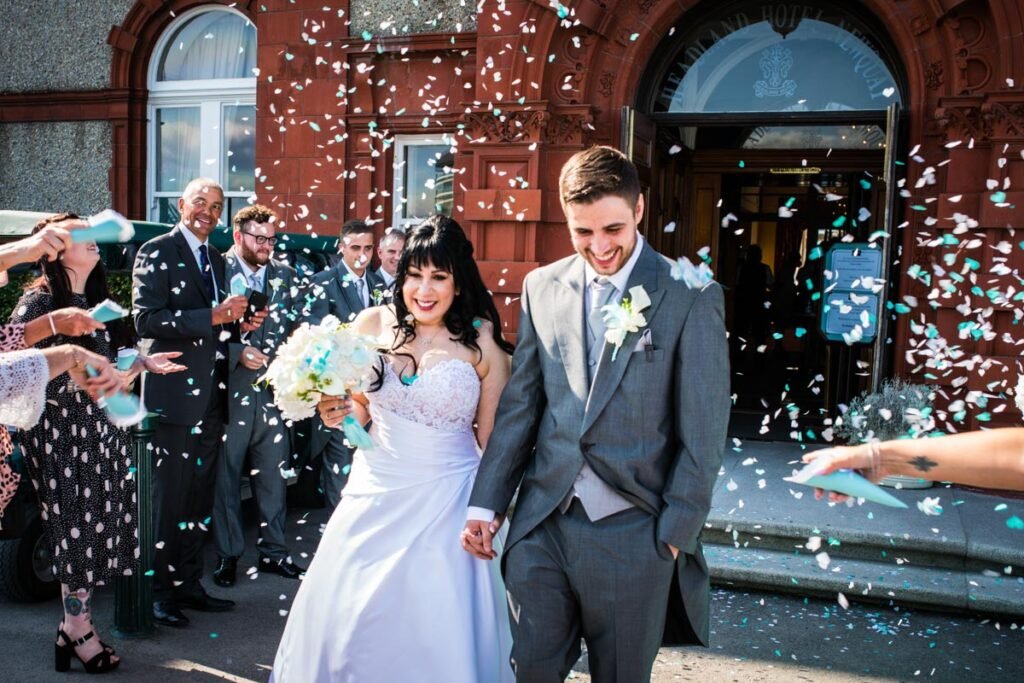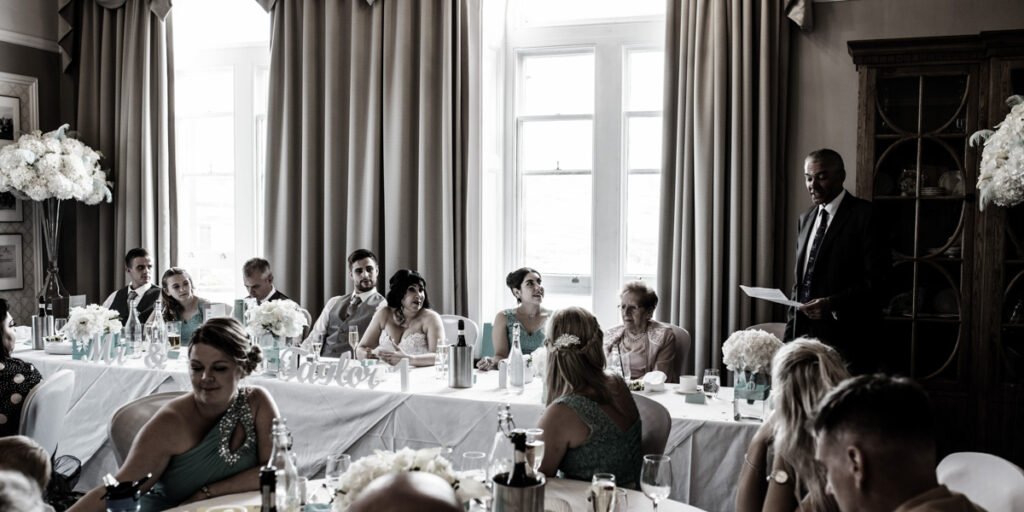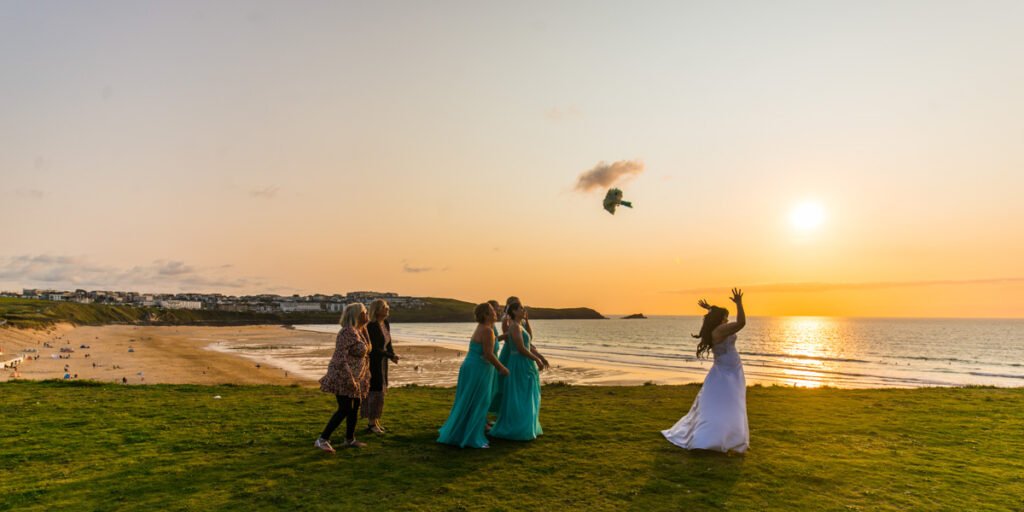 Two days later it was Mallory and David's wedding at Mt Edgcumbe House with the reception at The Orangery in the Park, in between the ceremony and the reception we went up to The Folly, a special place for Mallory and David, for some pictures with its panoramic views of Plymouth Sound as the backdrop.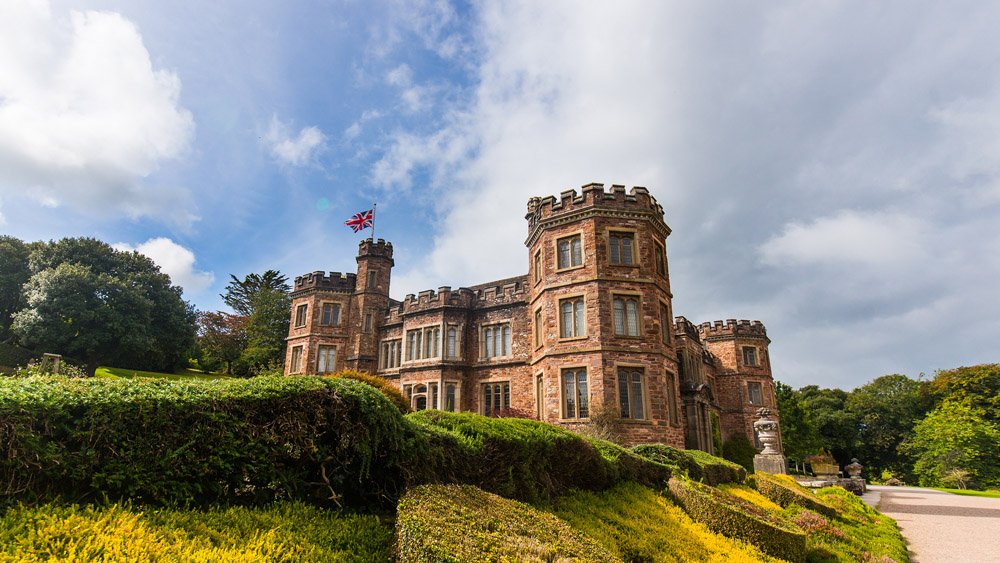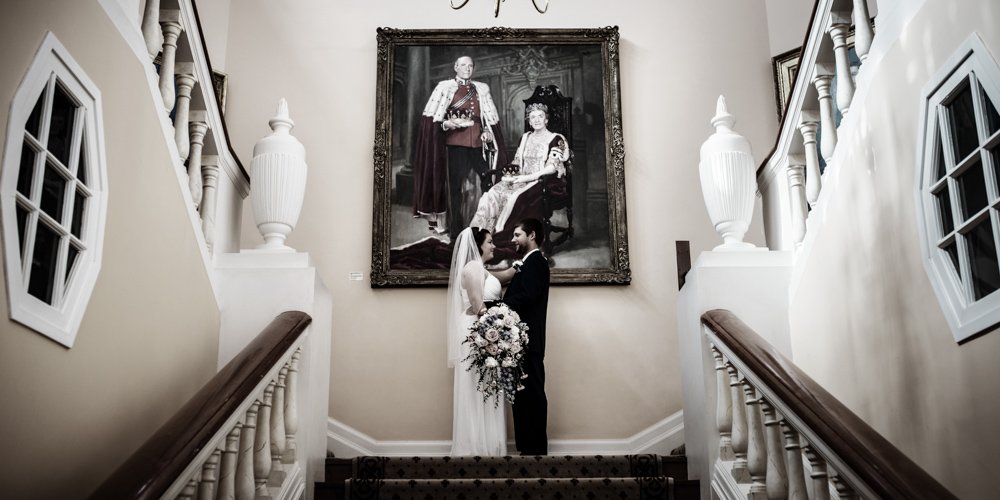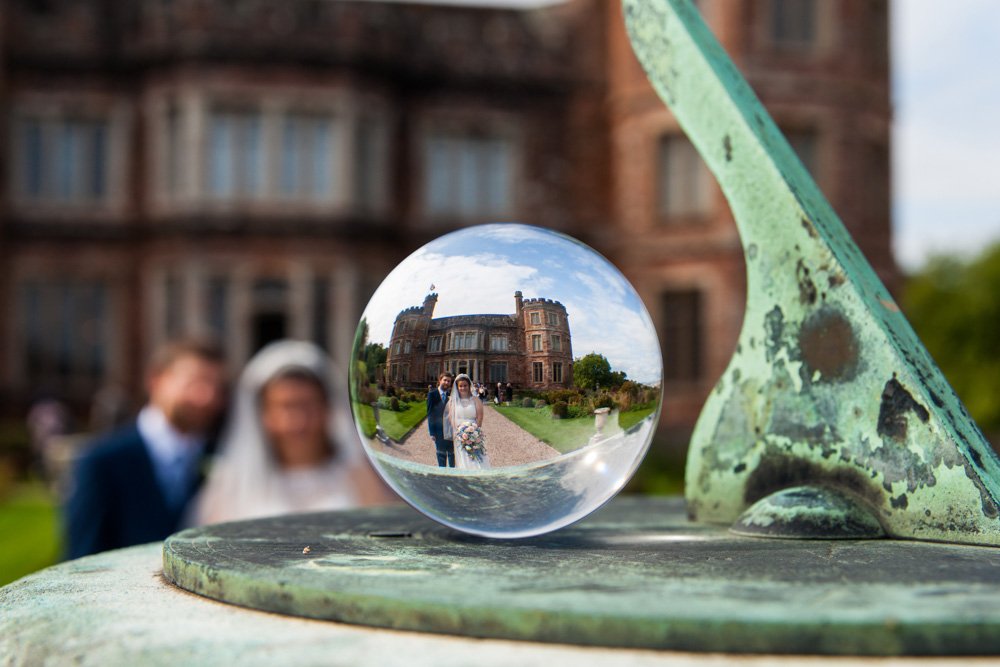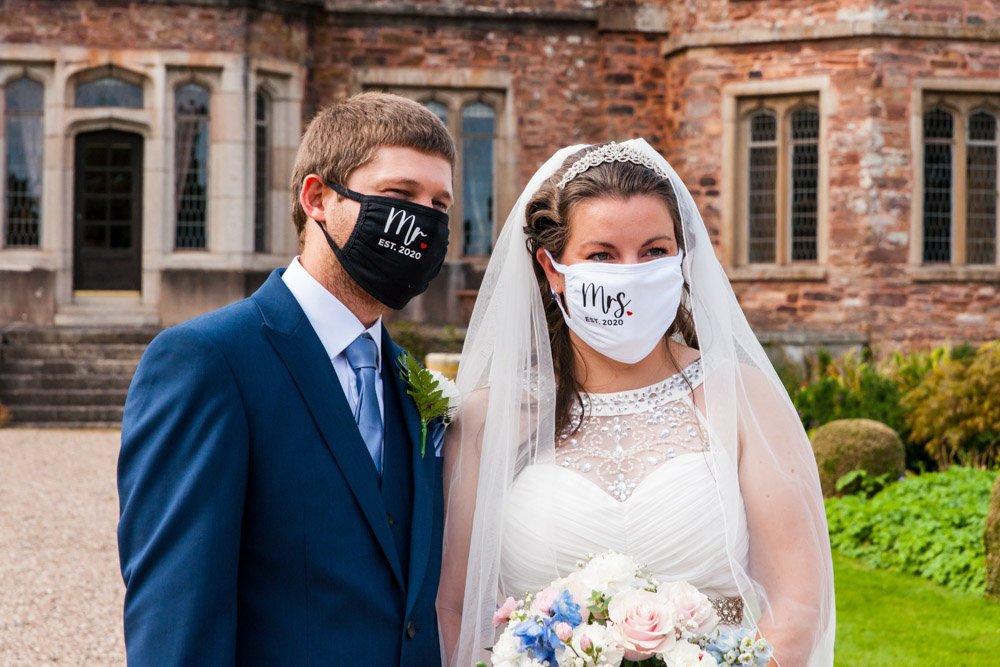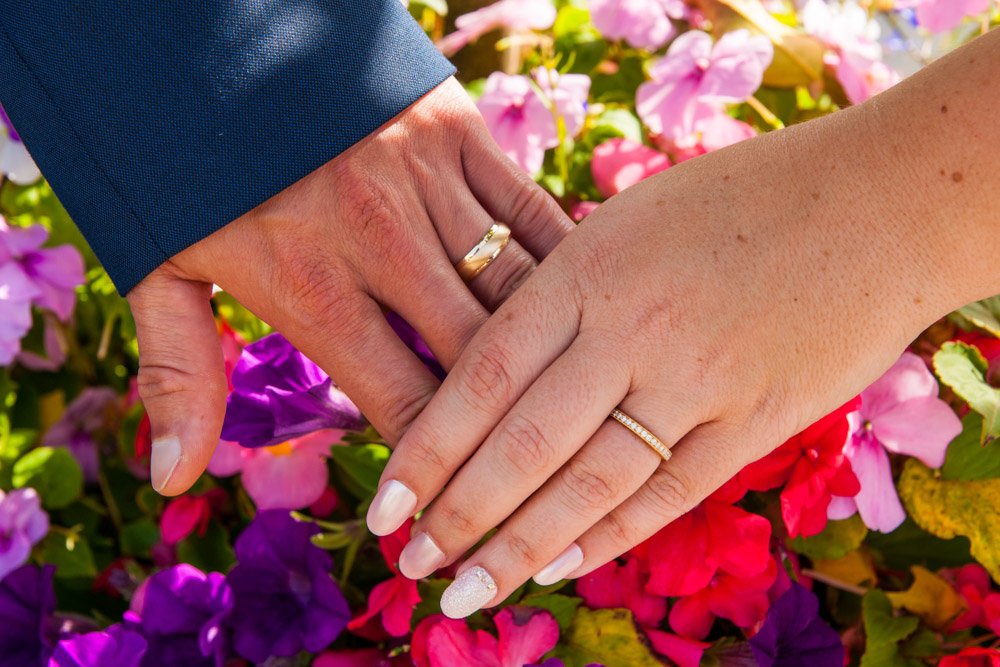 I then got a request to photograph a proposal in Tintagel on the 19th. I had done a few of these before and it usually very tense but great fun, will she say yes!
Darshan had booked me for a photoshoot and planned to pop the question halfway through, which made life a bit easier for me. The usual set up for this type of shoot is me hiding in the bushes with a long lens, so I was happy to be able to show myself. I'd been in contact with Darshan so we could plan the place for the proposal. We met at The Camelot Castle Hotel and behind the hotel is a terrace that overlooks Tintagel Castle. Tejal said yes (I never done a proposal shoot where the answer was no!) and it was such a wonderful occasion to photograph and we had a very dramatic skyline as a bonus.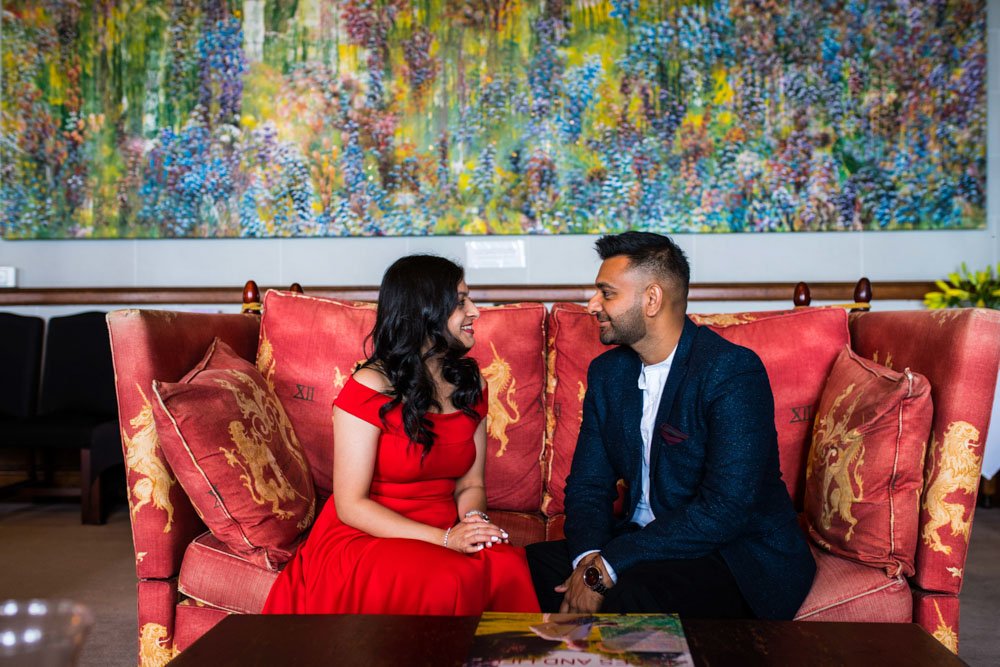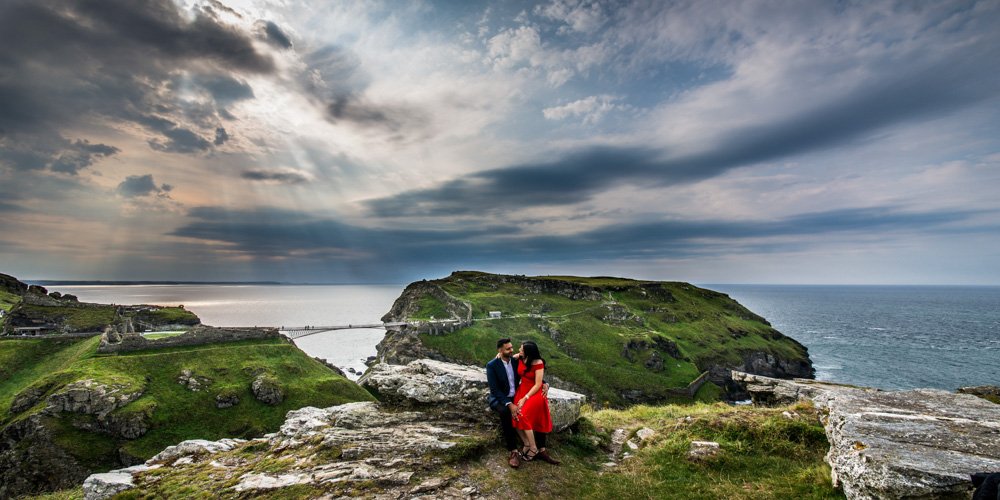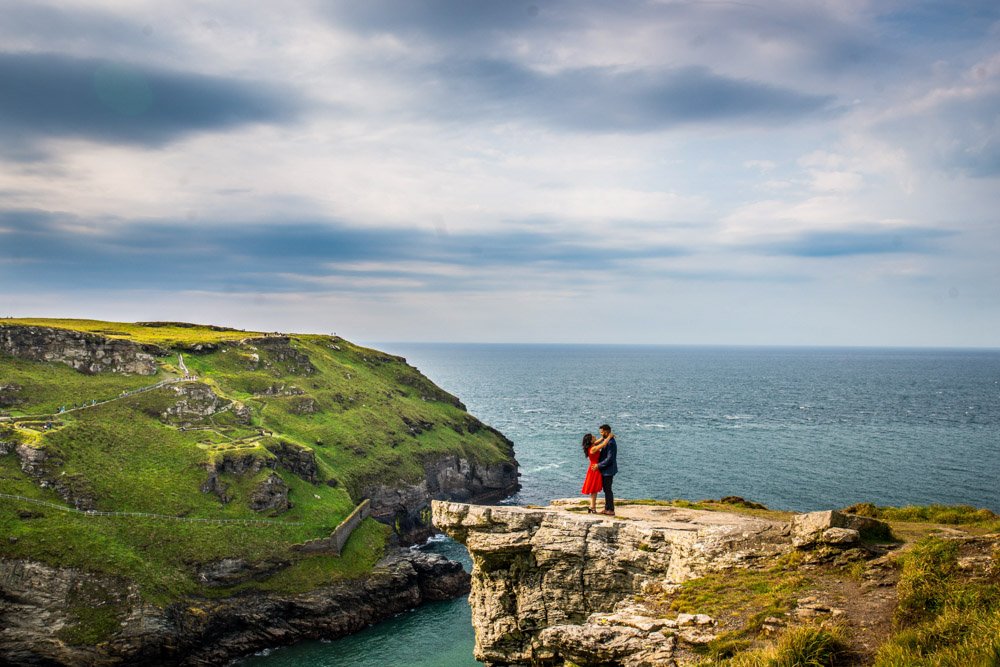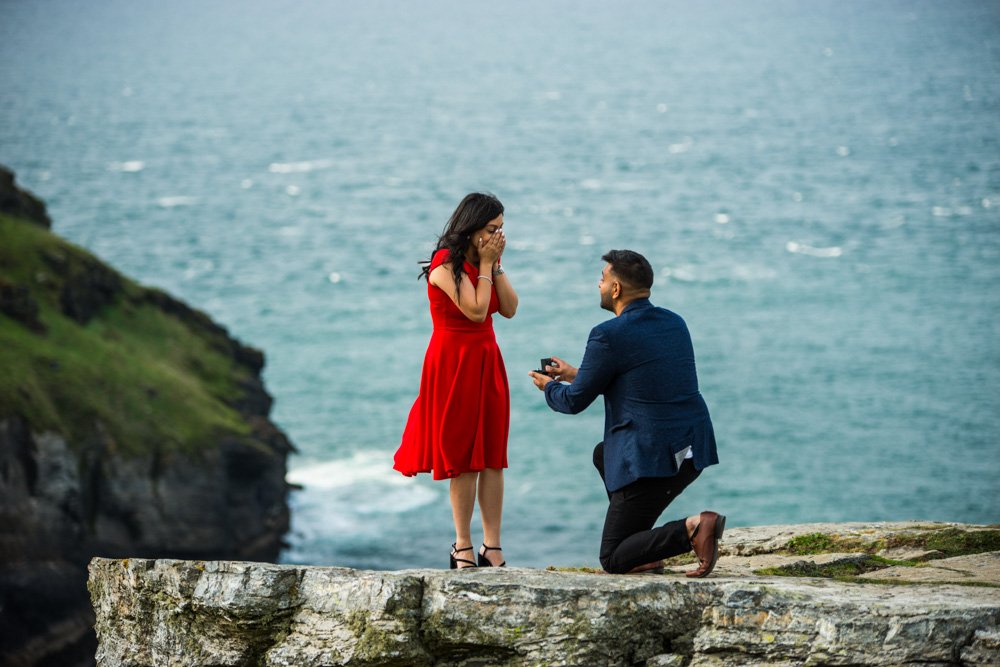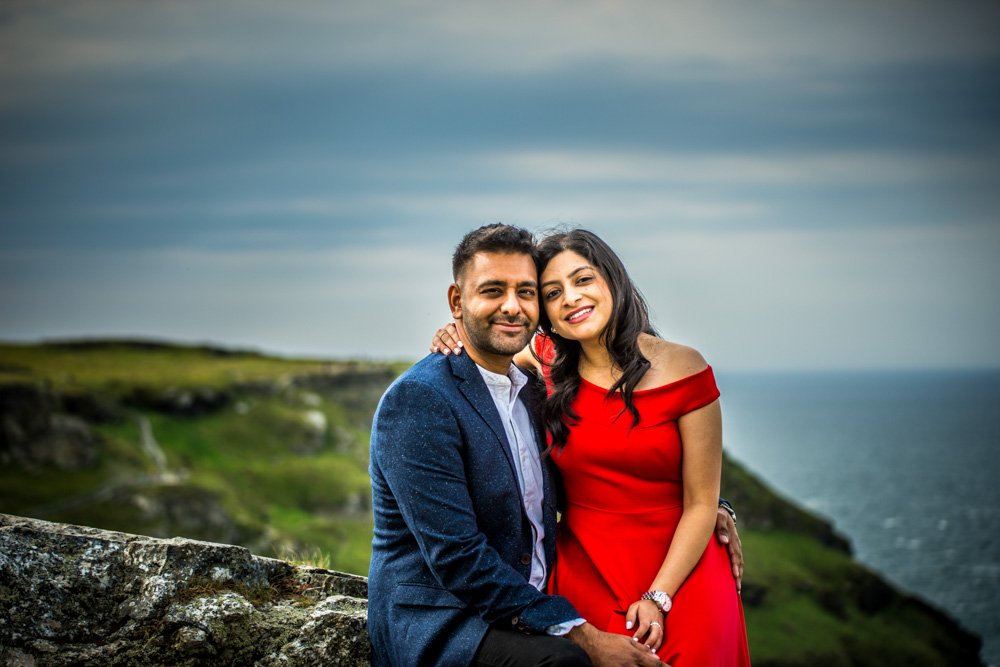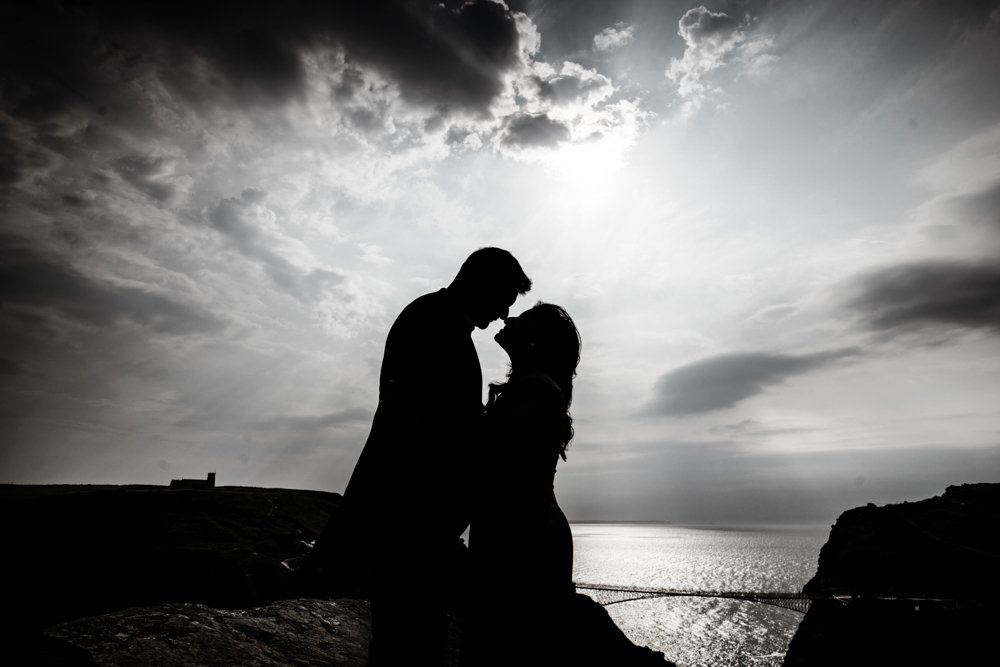 My last wedding in September was back at The Sandy Cove Hotel this time it was an elopement, Michelle who is from Liverpool got in touch and said she was going to marry Michael Owen, thought I had snagged a celebrity wedding but it was just a coincidence although Michael did play football! They had 3 daughters who were exceptional well behaved.
They had brilliant weather and the visibility was so good you could see Wales from the Wedding Gazebo.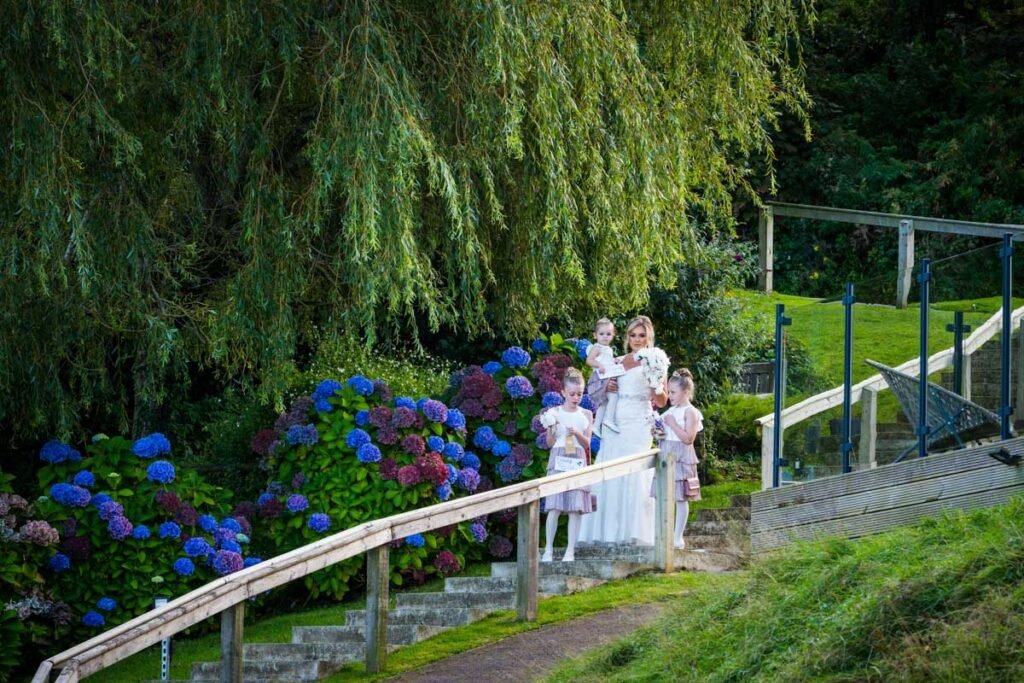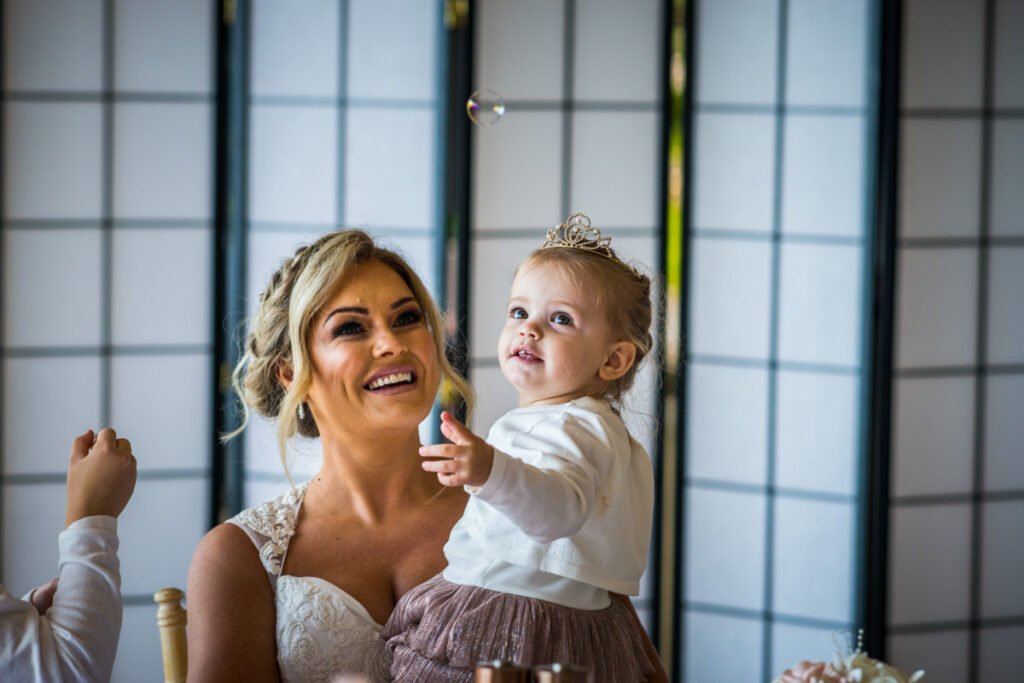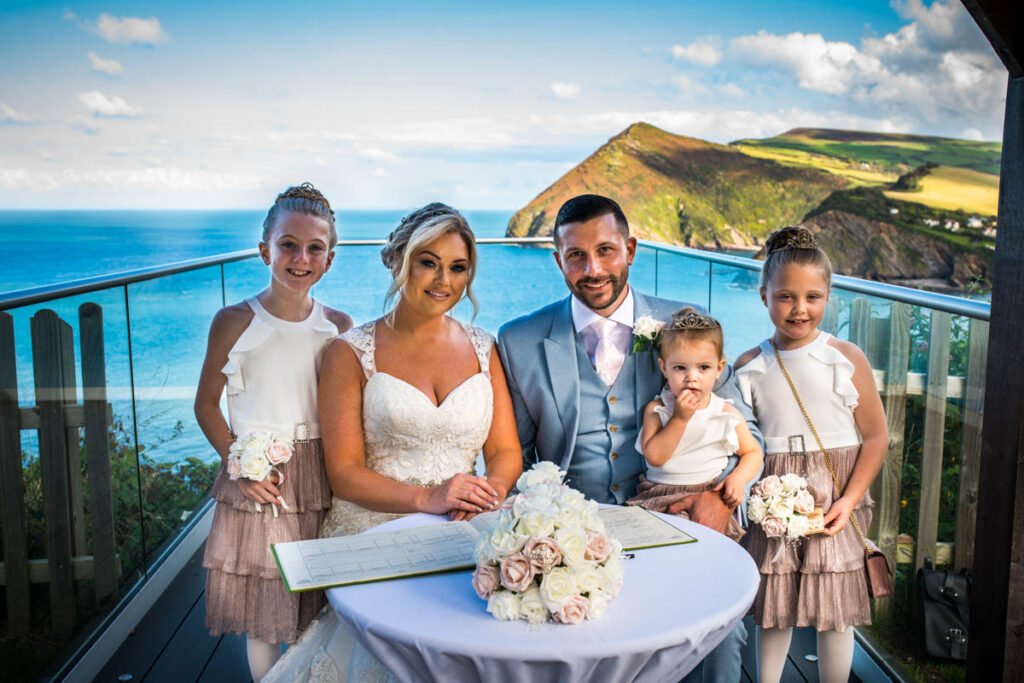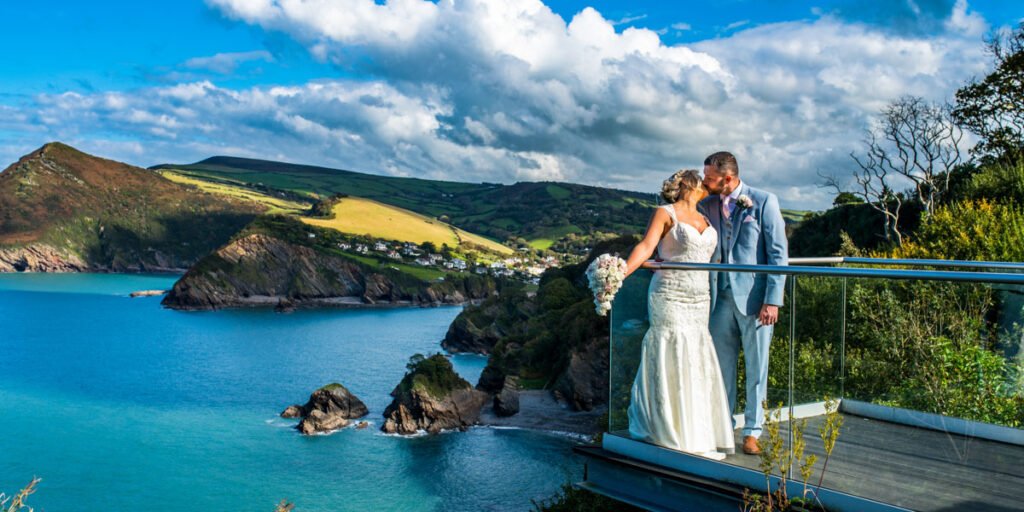 Into October and I had 3 weddings booked in, the first on the 2nd was a family friend, I've known Petra since she was very small and originally she had planned a very big wedding 200+ but of course that was not possible. Limited to 15, Petra and Isaac chose the Tubestation, which is a family run Church on the beach at Polzeath.
Their wedding day coincided with Storm Alex so we had to deal with driving rain and gale forced winds, but Petra took it all in her stride, one of the happiest Brides I've ever photographed. They had a small family meal at The Atlantic in New Polzeath and we braved the weather to get some pictures of the coast. A few weeks later we returned when the weather had improved and we had a beautiful sunset.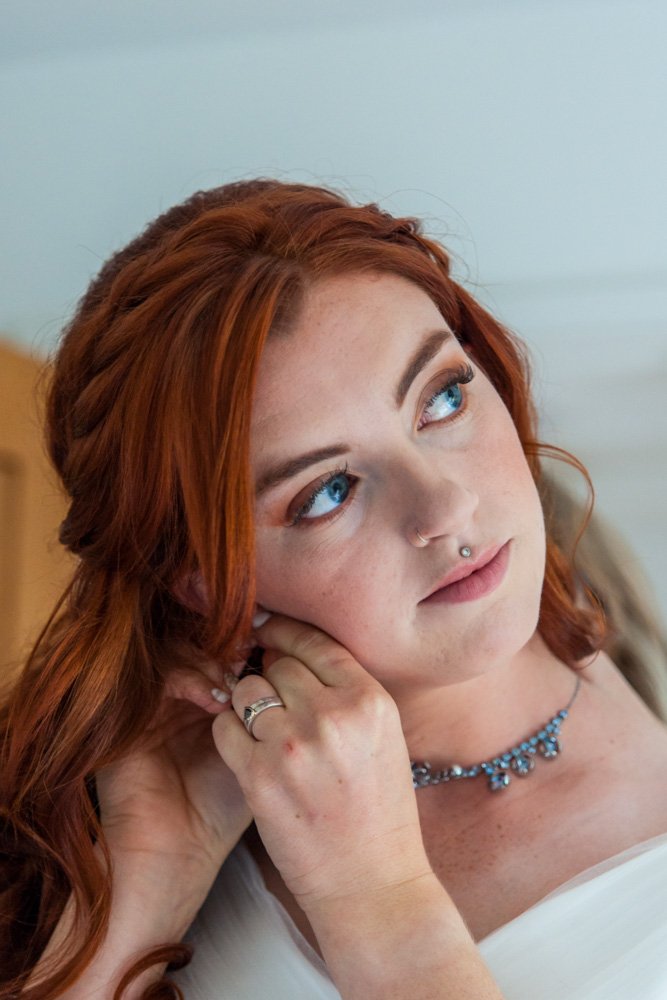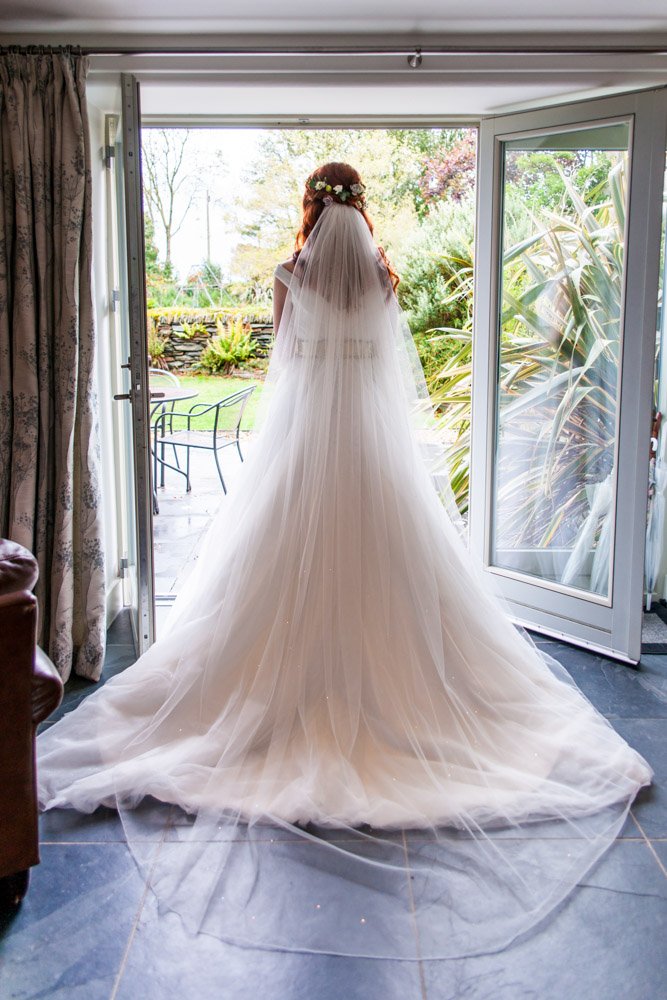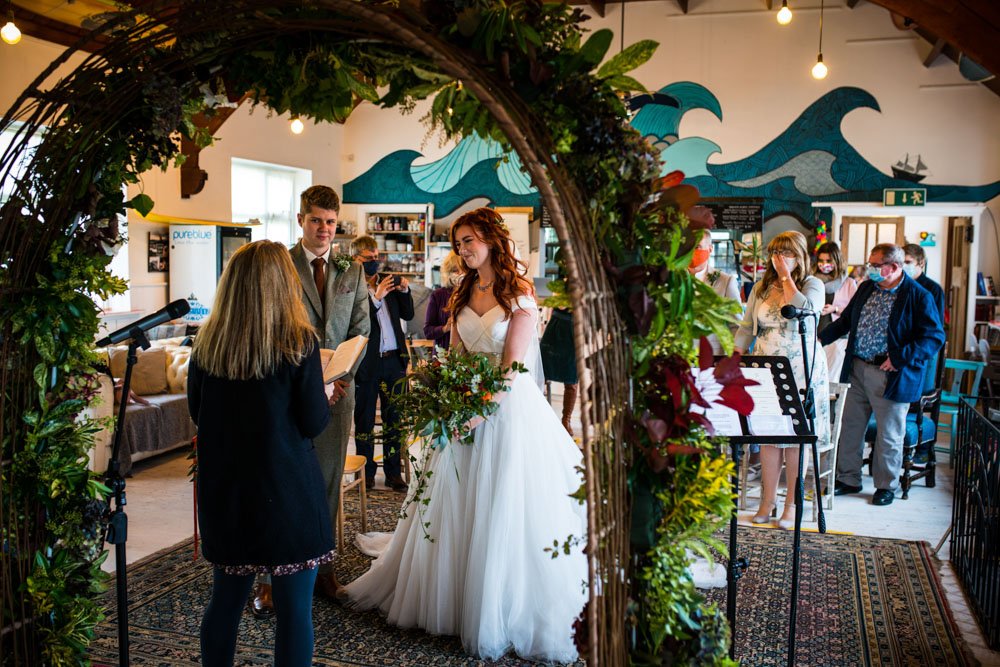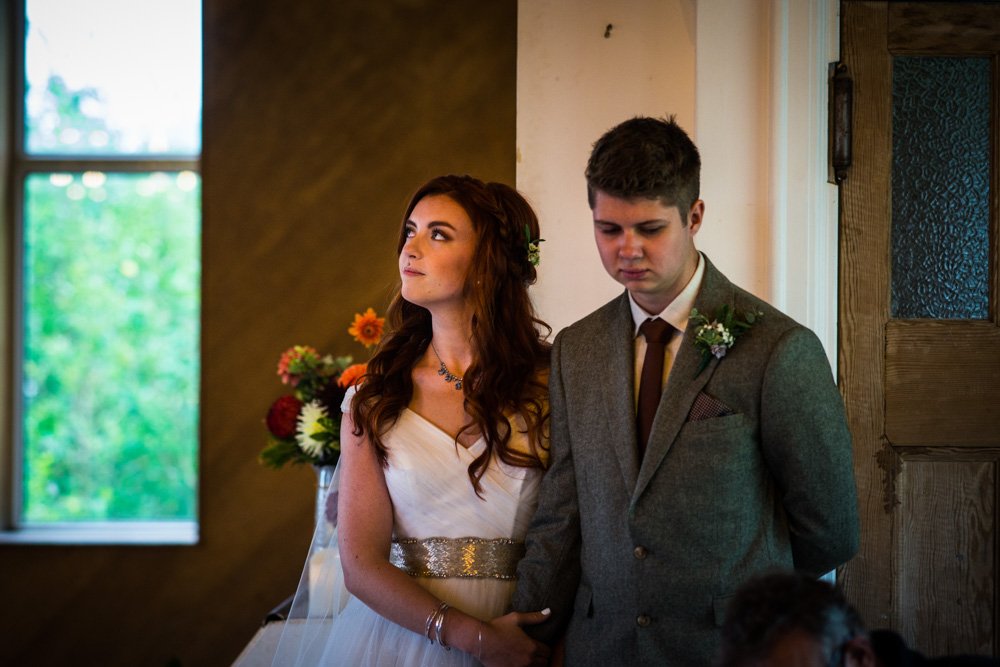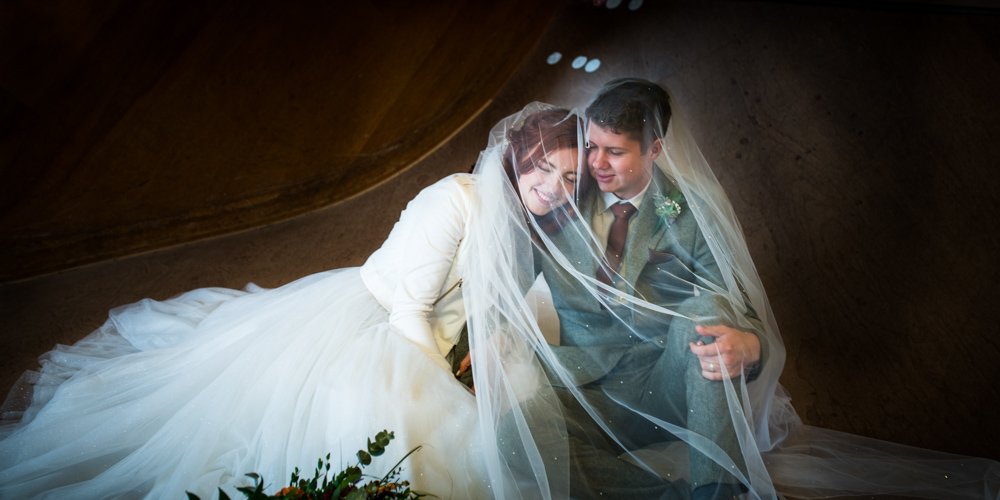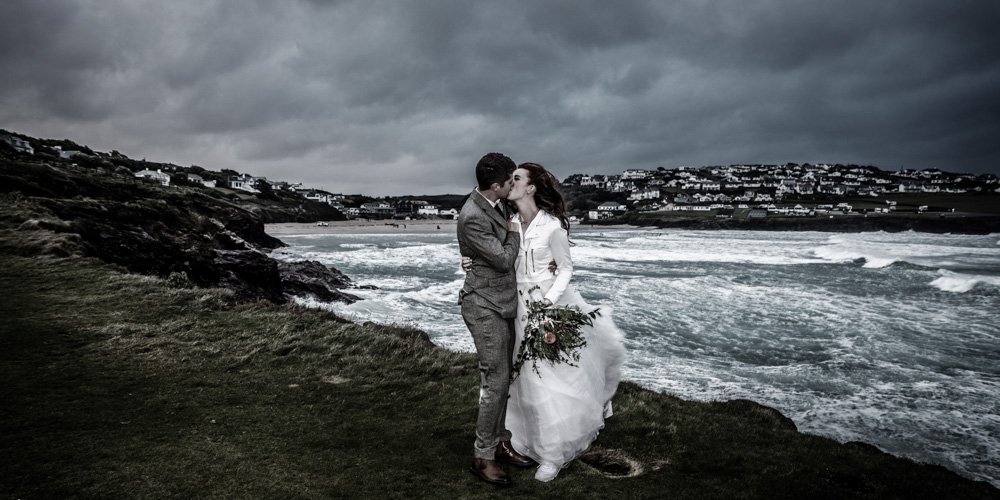 My second wedding in October was on the 11th  at an Inn just a few minutes down the road from me. Carly and Adam got married in Bristol and the next day travelled down to Cornwall to have a family celebration at The Mill House Inn Trebarwith, after an informal ceremony performed by Adam's brother, we went onto the coast path at Tintagel for some pictures followed by a trip to Trebarwith Strand for some dramatic pictures with the surf crashing against the rocks behind them.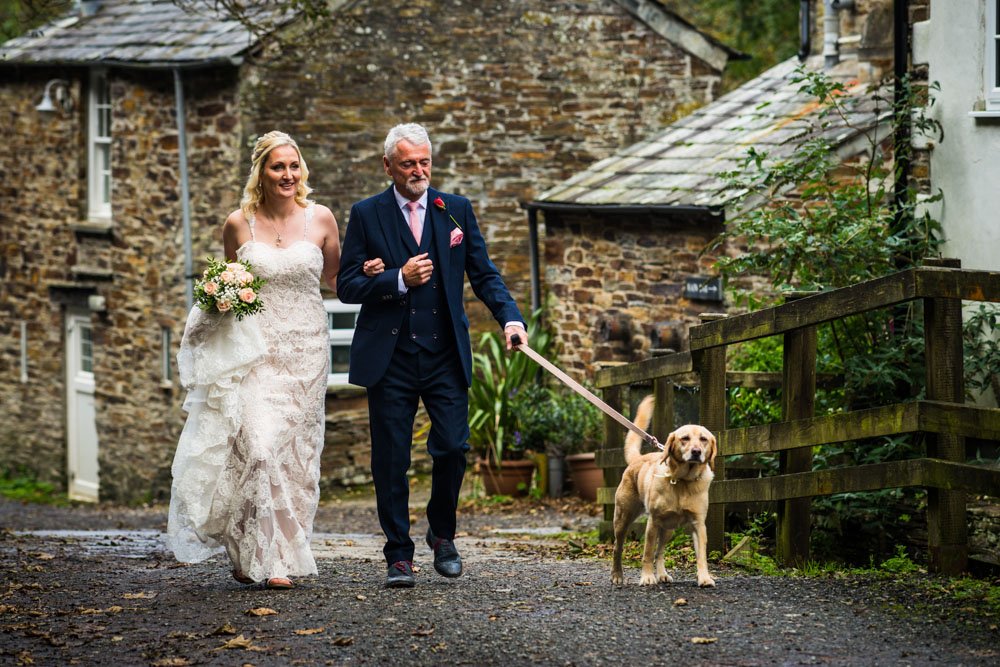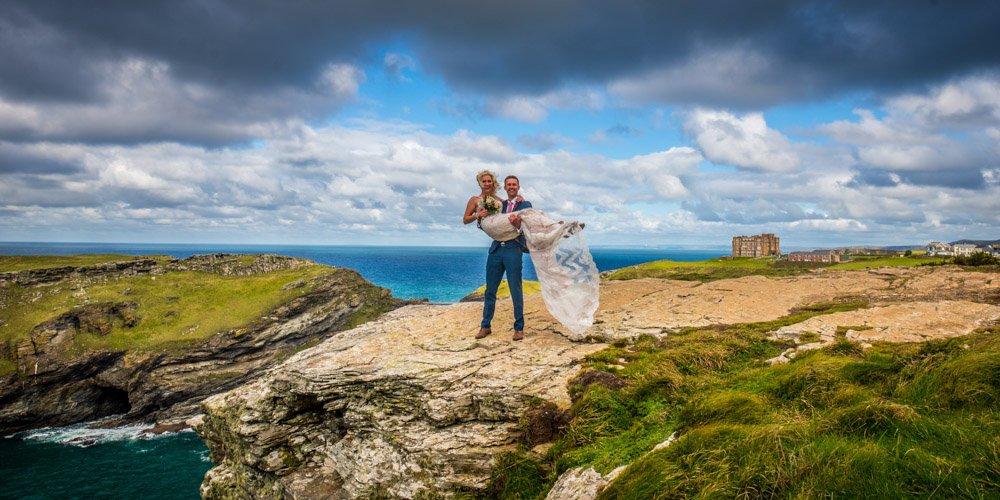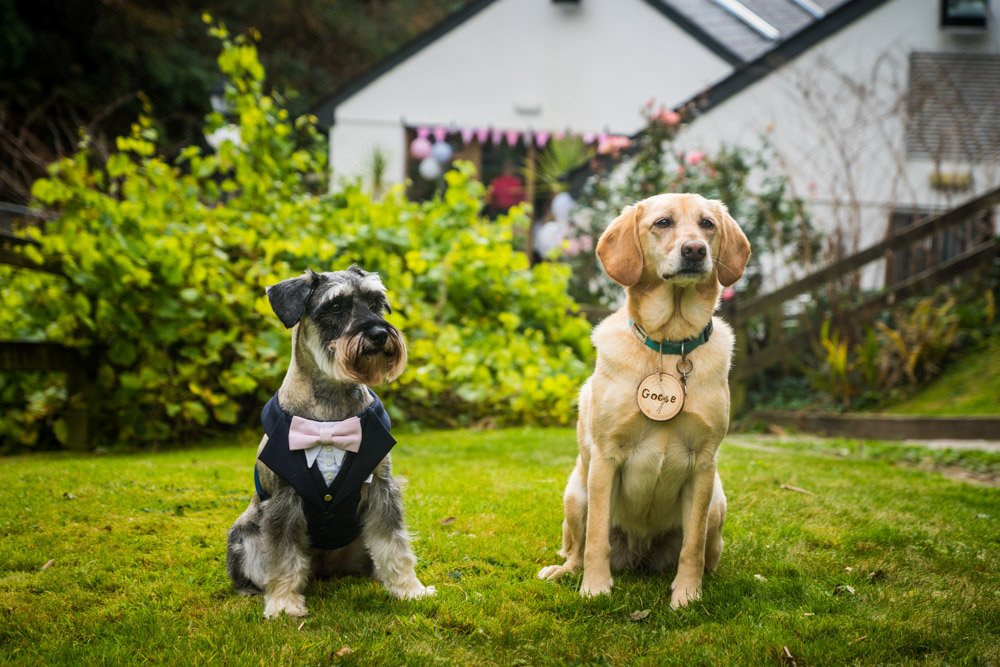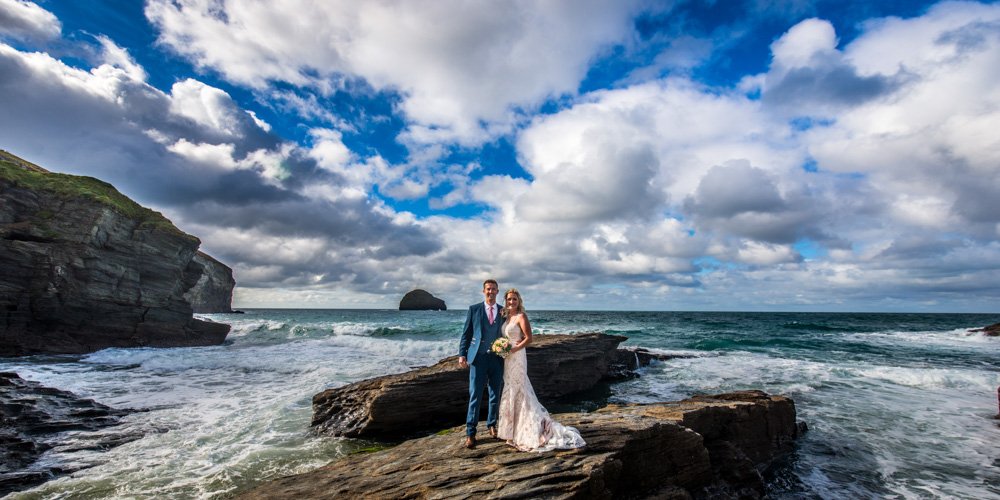 My third wedding in October was at Torquay Registry Office which is situated in the really lovely Cockington Country Park, with Autumn colours we got some great pictures. Caterina and Chris both live in London but Chris's family come from Torquay and the country park was one of their favourite places to visit, when they were down in Devon.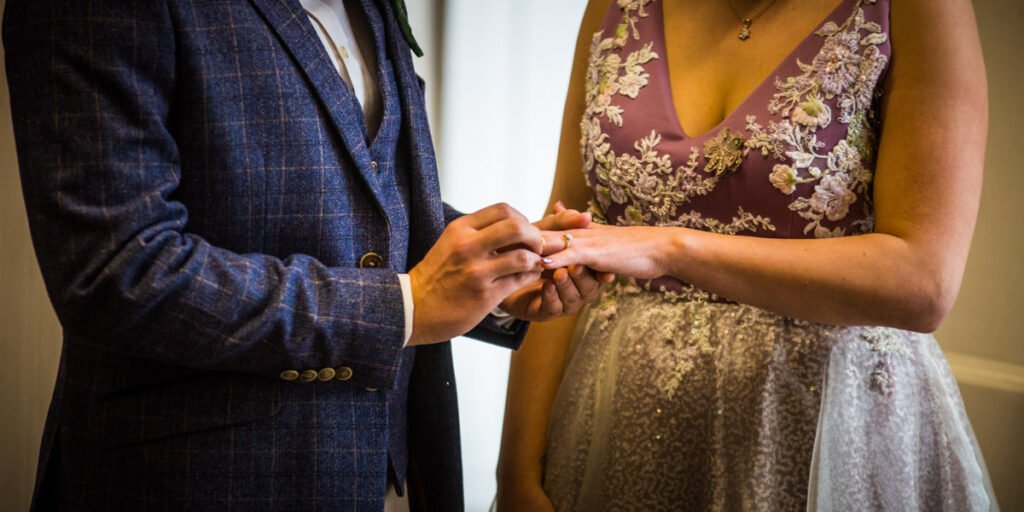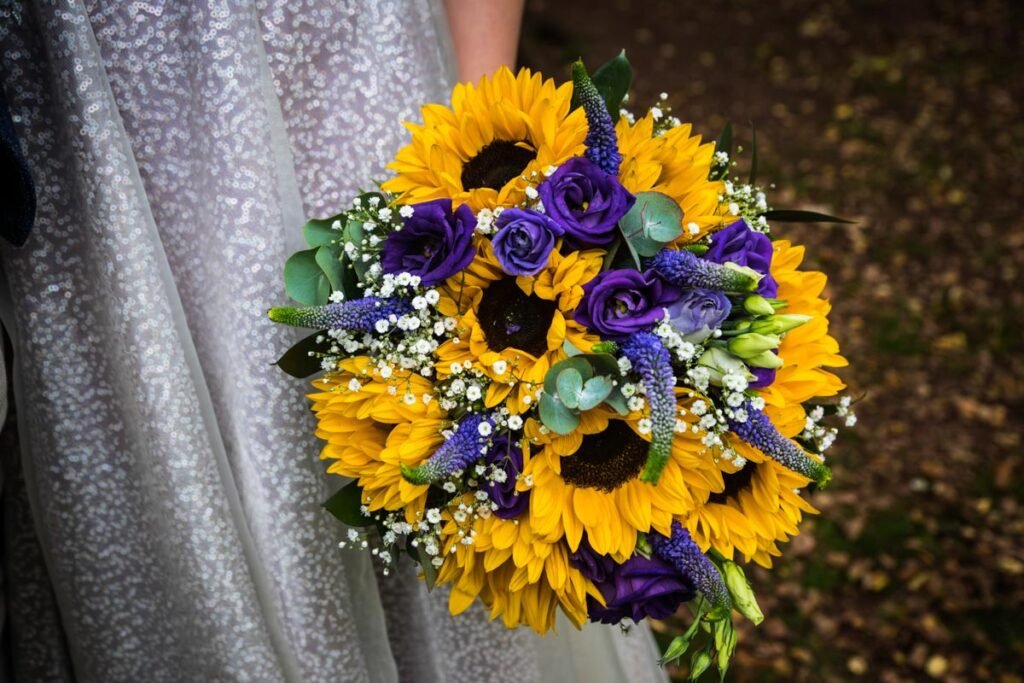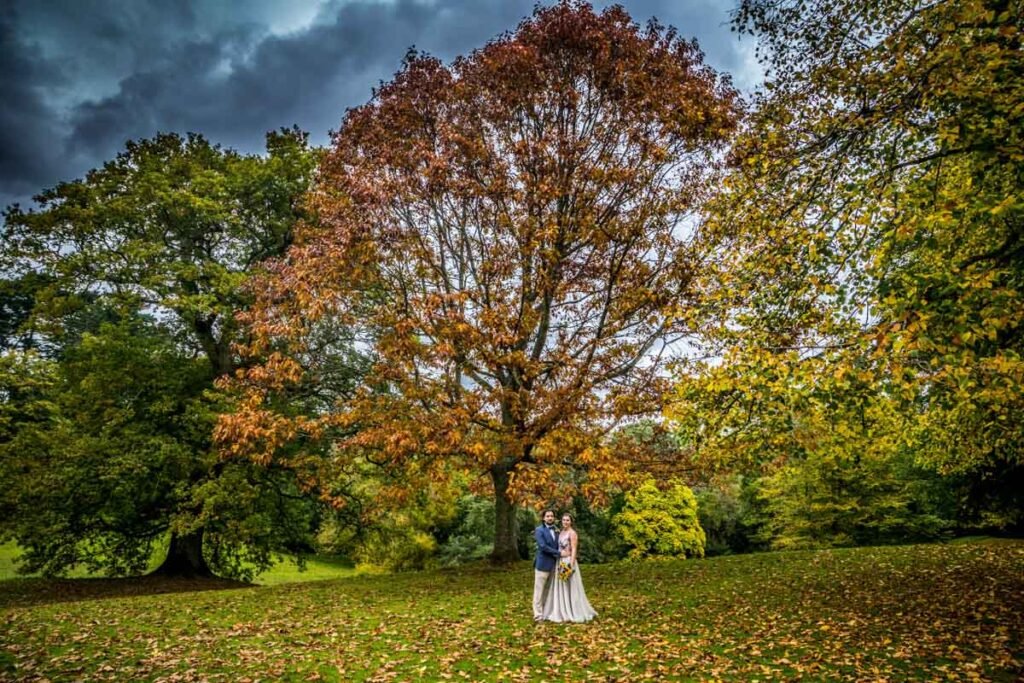 At the end of October I did a pre wedding meeting for Liz and Brian's wedding at Nancarrow Farm just outside Truro, their wedding was set for November but there was talk that we were going to go into Lockdown again and sure enough we were in Lockdown for November so they postponed their wedding to this April.
I had 2 more weddings booked in at Christmas time and it was touch and go whether these would go ahead, Cornwall had been in Tier 1 before the second lockdown, so I was hoping it would work out ok.
Weddings were back on, so Libby and Rich, who live in my village could get married on the 18th December. On a very stormy day they got married at Bodmin Registry Office, we had planned on some pictures at Trebarwith Strand but the weather was just too bad, driving rain and gale force winds.
I have done many weddings at Trebarwith Strand so I put together a few composite pictures for them.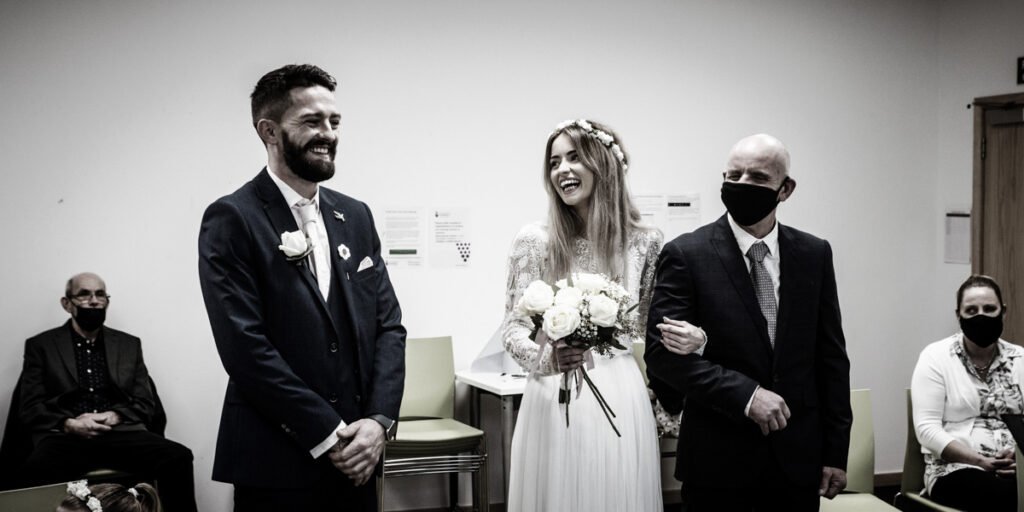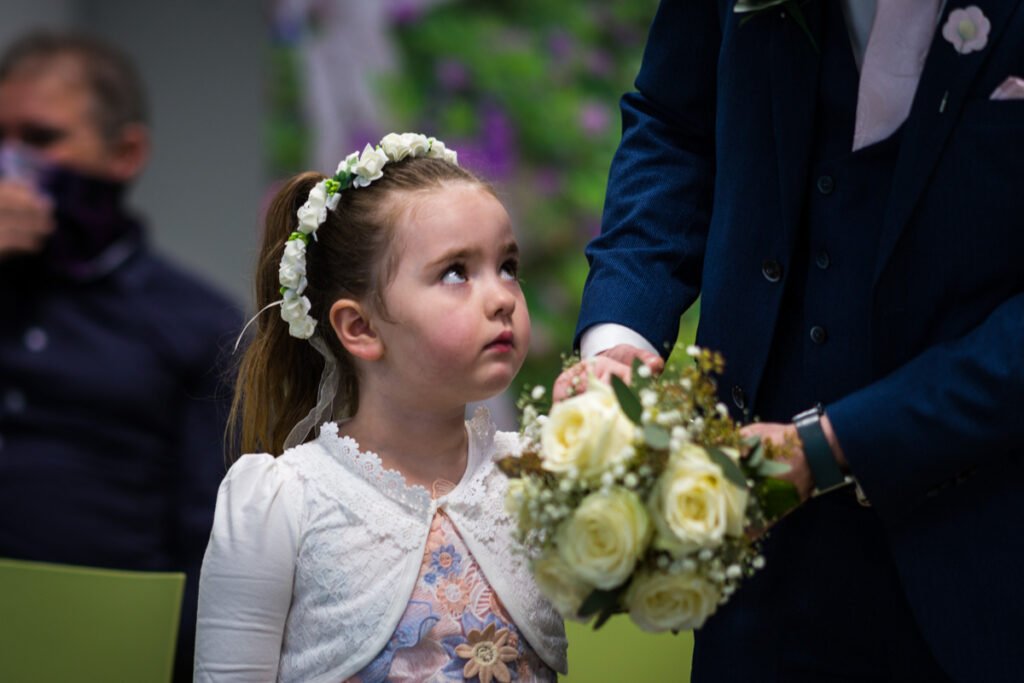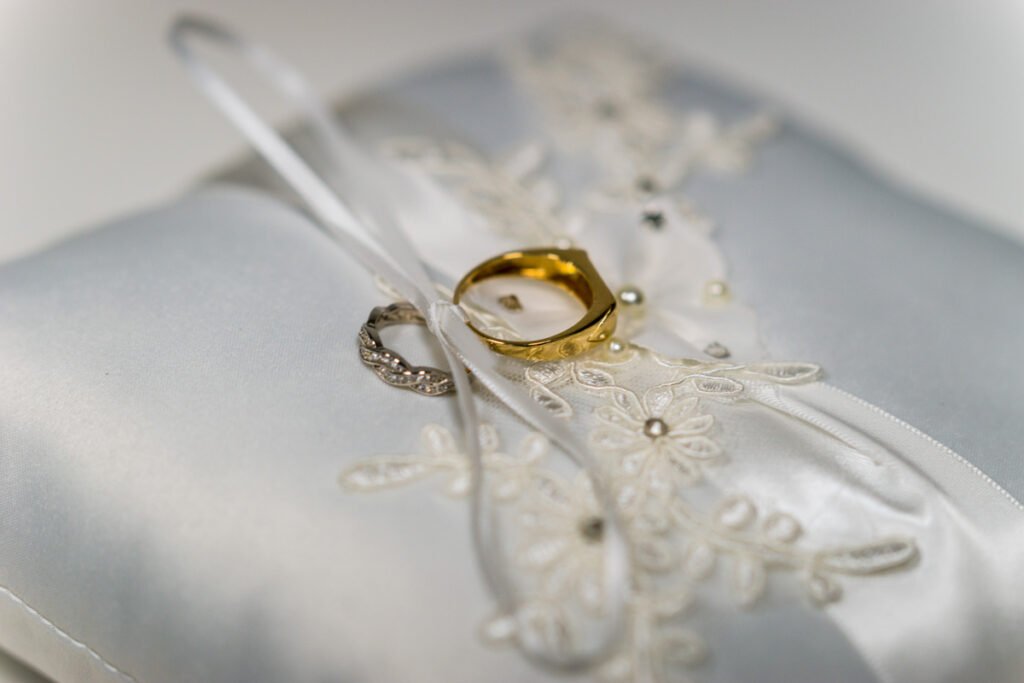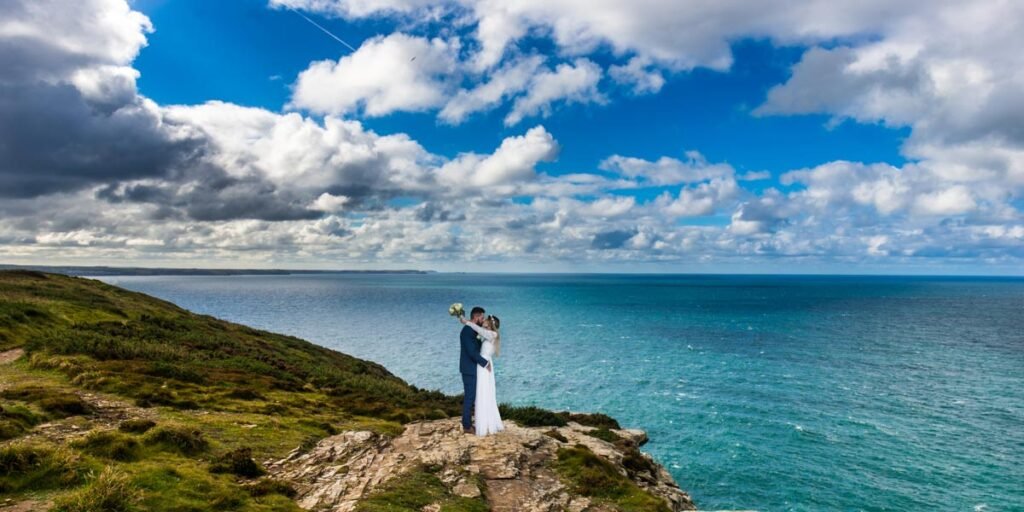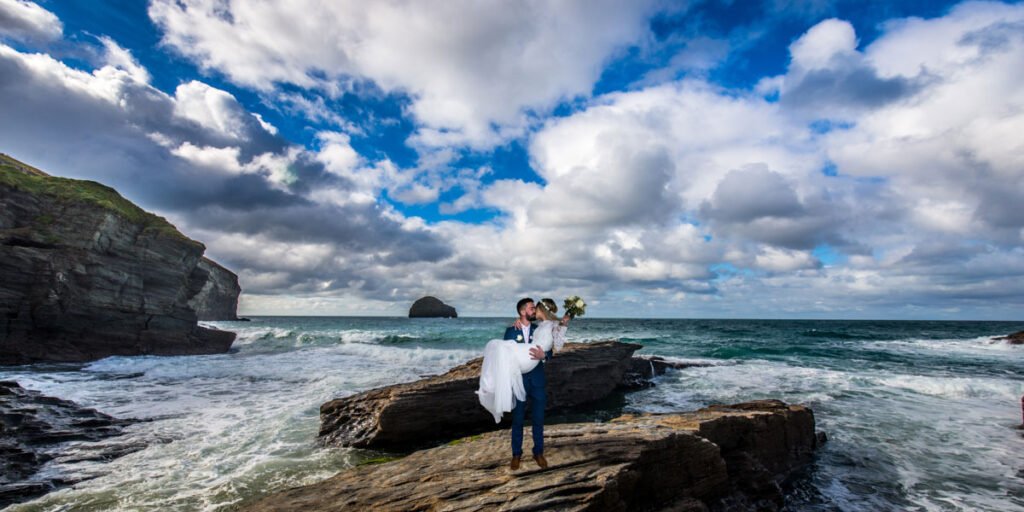 On the 23rd December we travelled to Penzance Registry Office for the elopement of Chloe and Nathan, I videoed the ceremony for them so family and friends could share the event over Christmas. We then had a trip down to Marazion so we could get some pictures on the beach with St Michael's Mount in the background, it had been a misty day but as we approached St Michael's Mount the mist cleared and we managed to get some lovely pictures on the beach.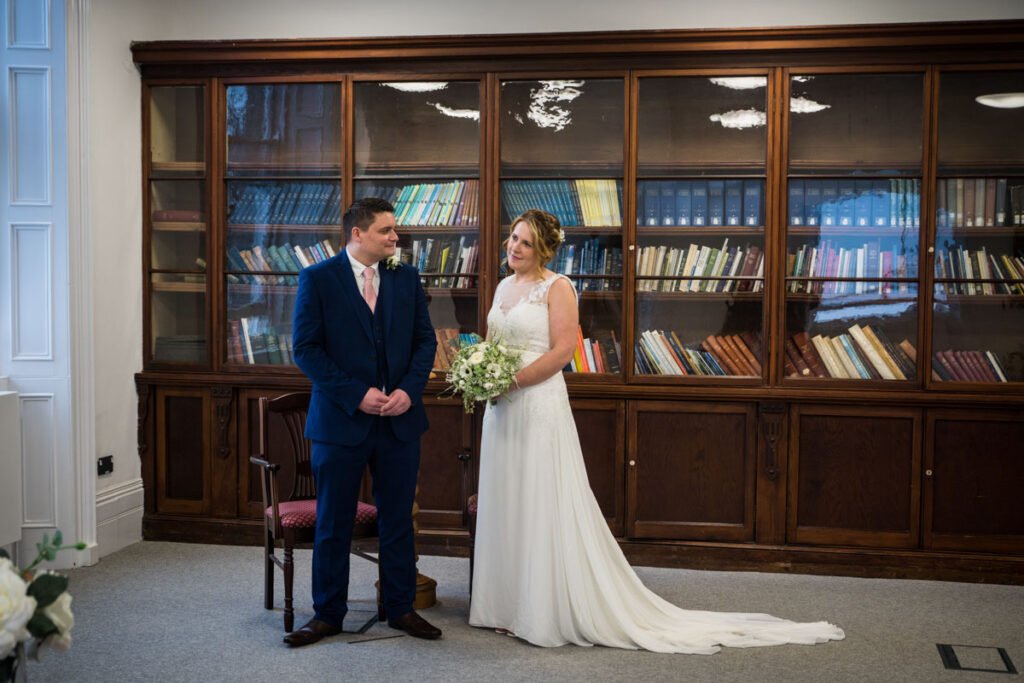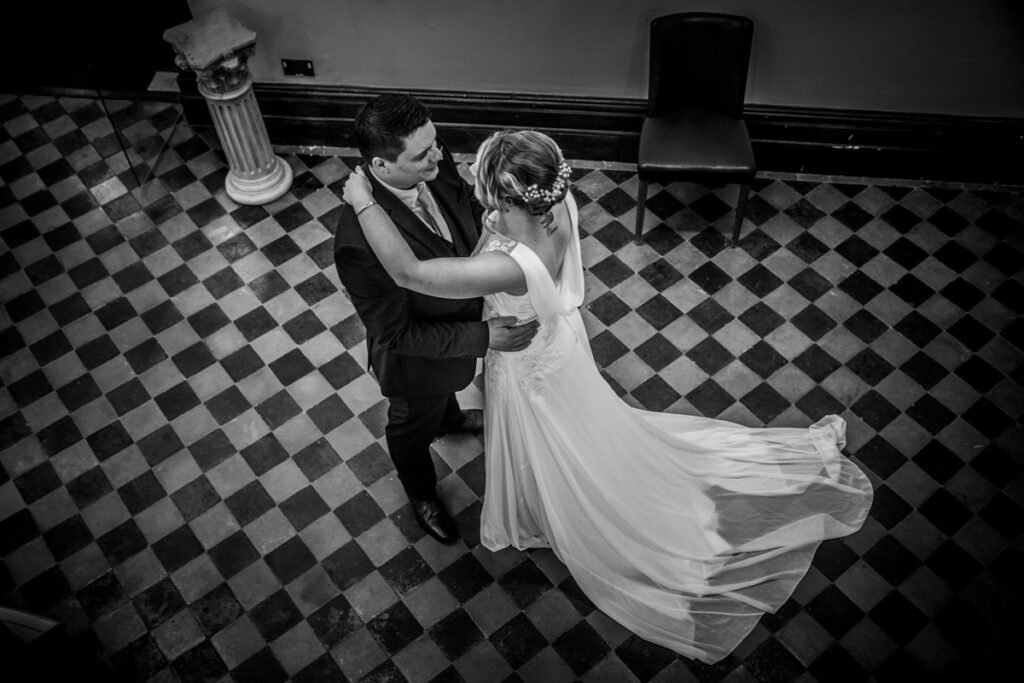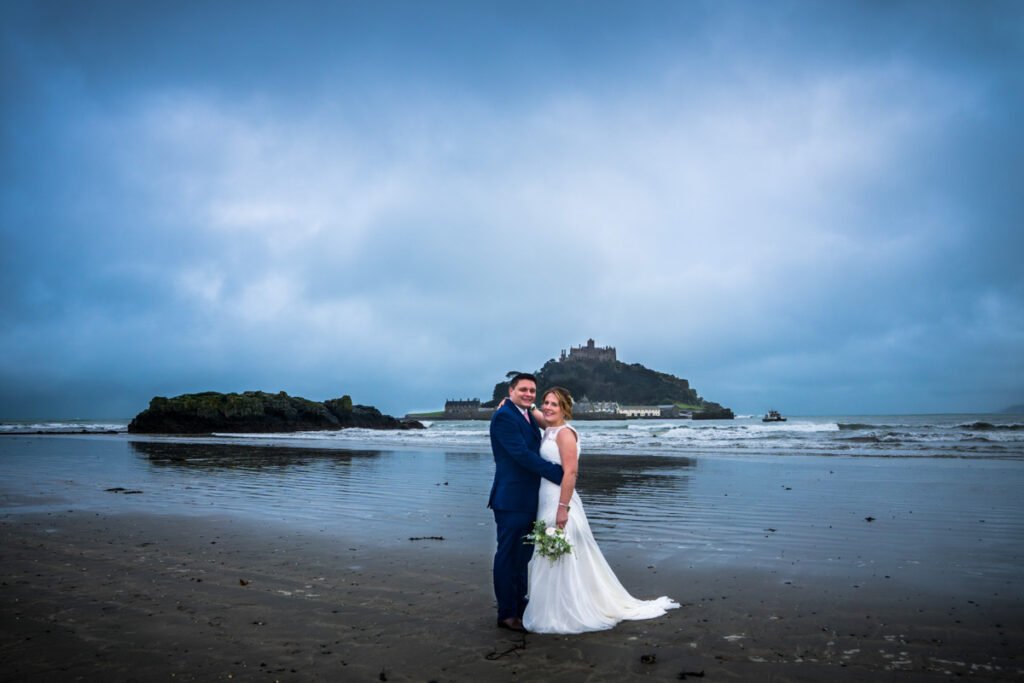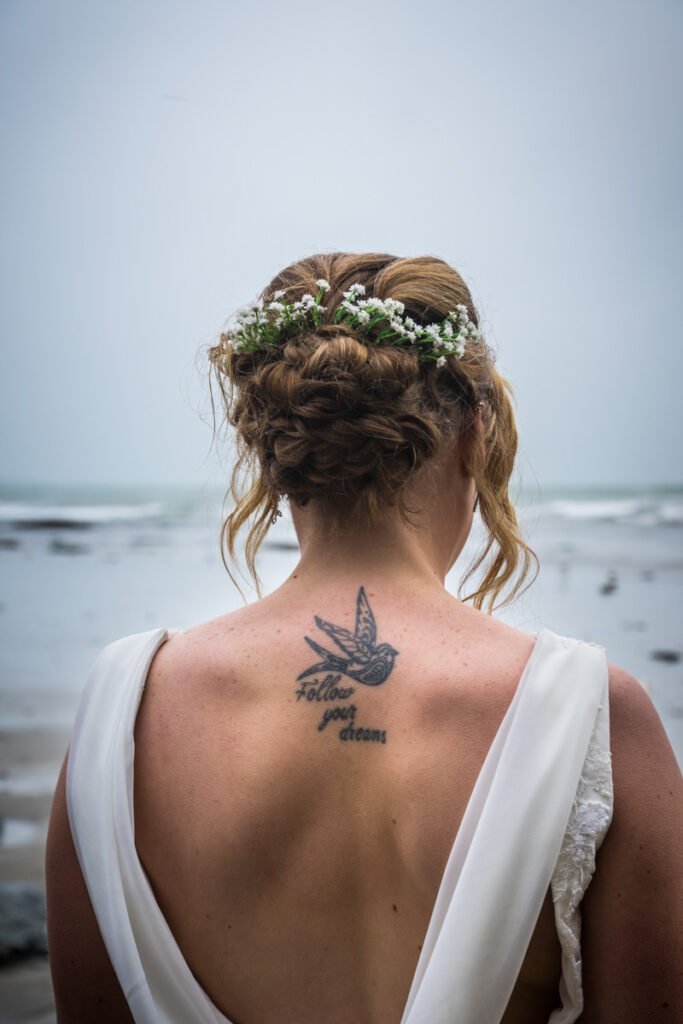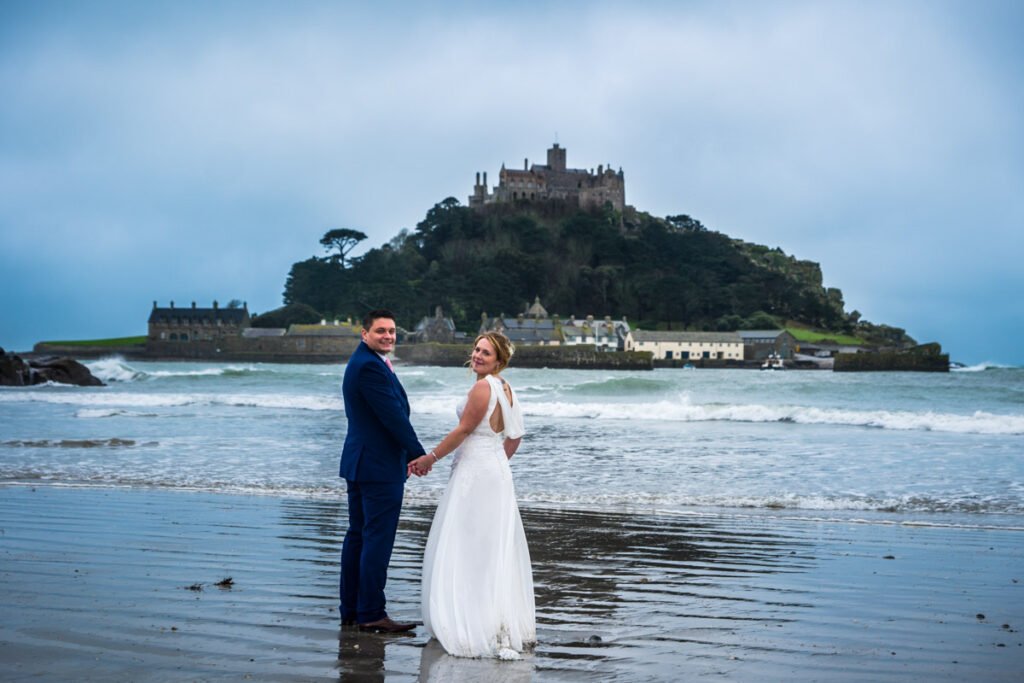 Just when I thought I was done for the year I got a text on Boxing Day from Mo asking me whether I would photograph his proposal at The Minack Theatre near Porthcurno the next day, it was very short notice but I fancied a trip out.
This time I was incognito hiding behind a lighting stanchion, again I was fortunate that Sarah said yes. We had to deal with the odd sharp shower but otherwise it was a beautiful crisp winters day.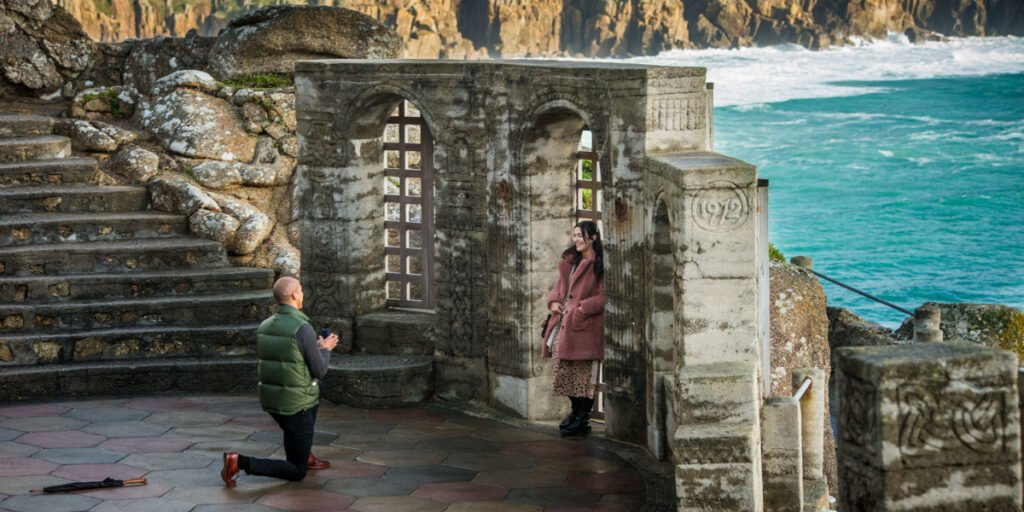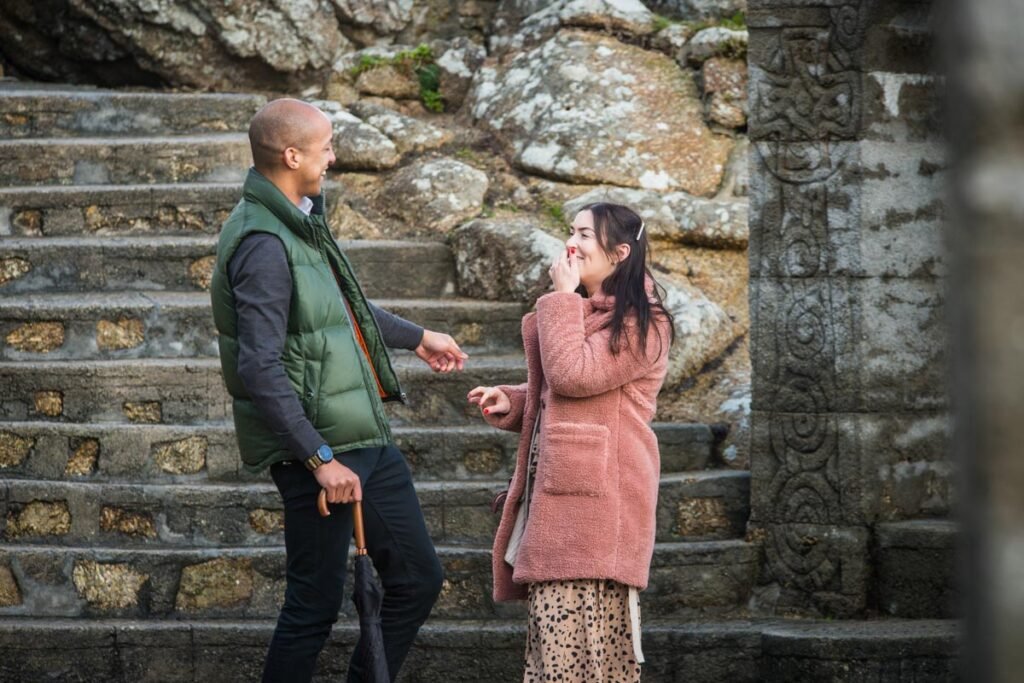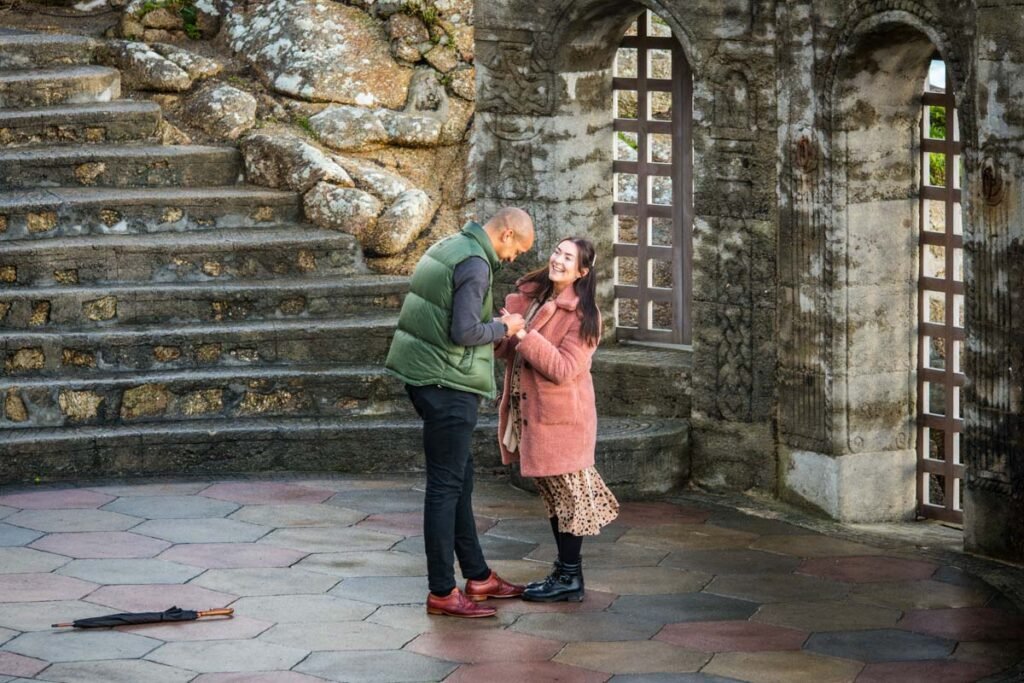 Actually quite a busy year all told, who knows what 2021 will have in store.